I'm in Rwanda for a 3 day visit and on arrival in Kigali yesterday morning, I went straight to the genocide memorial at Ntarama Church to lay a commemorative wreath for the Rwandans who lost their lives in 1994. Only 20 years have passed since the genocide, and - understandably - it remains an episode that defines and shapes the political, social, economic and development context of the country today.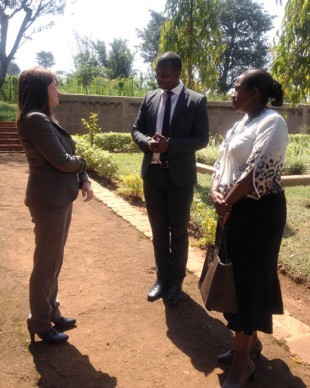 At Ntarama church, the story of the genocide unfolds before me as my guide from the Aegis Trust explains the harrowing events that took place in April 1994. The militia told Tutsis in and around Ntarama to stay together on the church compound so that the government could guarantee their safety. As large numbers of Tutsis sought protection, they thought they would escape unharmed.
They did not.
Soldiers and militia attacked the church where the Tutsis sheltered. Five thousand people lost their lives as violent atrocities almost too difficult to speak of took place.
I knew that visiting the memorial would be distressing, but nothing could have prepared me for the sight of coffins filled with multiple bodies, or the rows upon rows of skulls of those who had perished, some small enough to fit in to the palm of my hand. Most upsetting of all – a corner of the church's Sunday School room remains forever stained by blood where children were swung by their legs and smashed repeatedly against the stone until dead. I cannot bring myself to imagine the terrified screams of the little ones who were faced with such brutality.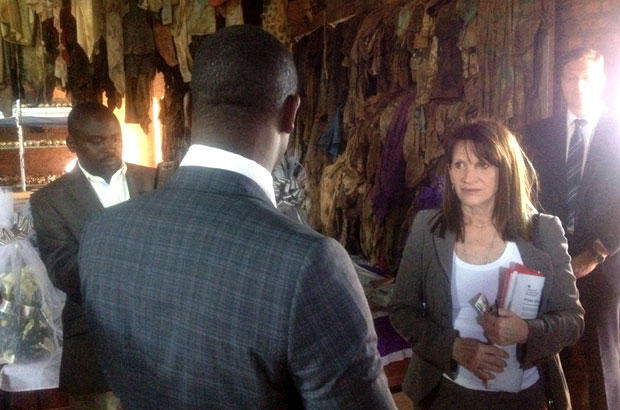 As I laid the commemorative wreath amongst the remnants of clothes and shoes belonging to those who perished, I reflect that Ntarama is just one of many similar sites across the country. It is truly sobering to visit a genocide memorial, but it is so very important that we remember – it's vital in making sure these terrible events are not repeated. With UK support, the Aegis Trust is working to turn the site at Ntarama in to an exhibition that – alongside the main Genocide Memorial in Kigali – will provide a space for reflection, remembrance and healing.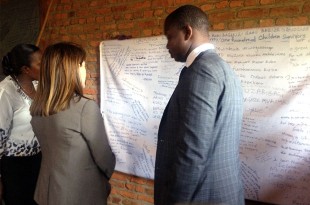 In the bloodied Sunday School building, there is a large banner where the school children of today write messages to the children who died. One simply and bravely reads "I will stand in your place", and – although communities are still coming to terms with the tragedy, the country has made remarkable progress and people are looking to the future. A stronger, more cohesive future where the motto of my hosts for today – the Aegis Trust – rings loudly: 'Genocide. Never Again.'
Sign up for email updates from this blog, or follow Lynne on Twitter.