#YouthForChange took place ahead of the Girl Summit 2014. The day brought together young people from around the world to ignite action on girls' rights.
Nell Goddard - who is just beginning her second year studying Theology at Durham University - was one of the young people who attended. She took part in the youth newsroom. Nell describes herself as "a self-confessed introvert whose pseudo-extroverted side sees more sunlight than it probably should". She is passionate about grammar, feminism and her dog.
This is Nell's winning blog summing up her experiences at #YouthForChange.
Like many delegates at the #YouthForChange event, I came away inspired to change a generation. To change lives and, ultimately, to change the world. The passion of those I met, those I heard speak - and that I've even found within myself - has inspired me to make a difference.
Except this is not going to be an overnight phenomenon. We live in a culture where we expect instantaneous results. I've spent the past few years wanting to change the world. I expected to send a few tweets, harness a few contacts, and see things change before my eyes within a few weeks, maybe a month or 2 at a push. But it didn't. This is not reality. Reality takes longer. Education takes time, and effort. It takes long-term investment, and love.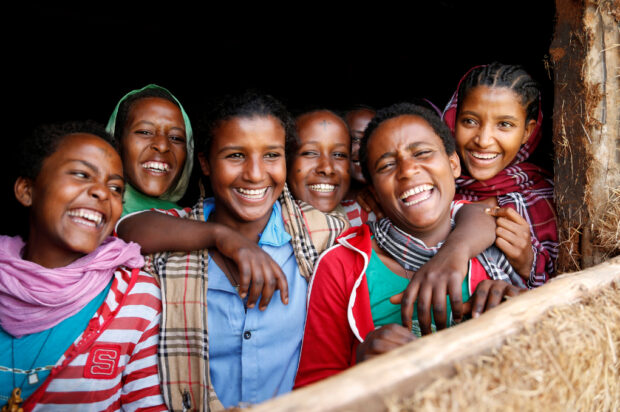 So I've learnt: if you care, you have to commit to be in it for the long haul. Because culture doesn't change that quickly. Culture takes years and years to develop and therefore years and years to change. And so if you care, you commit. Commit to girls, commit to change, commit to finding a solution.
And the solution, ultimately, is about education. But education comes from exposure. The more we learn, the more weapons we have at our disposal. When you educate girls, you empower them. You give them a voice within their schools, within their communities. And a voice is what the girls of this generation need most of all. When you have a voice, you have the ability to speak, and the ability to stand up and speak out.
When you give a girl an education, you give her permission to say 'no', to speak of her hopes and fears, and to shout about the things which matter to her. And so we must educate girls and we must empower them. We must find ways to keep them in school because, as was said at the #YouthForChange event – 'if you educate a girl, you educate a nation'.
————————————————————————————————–
Please note, this is a guest blog. Views expressed here do not necessarily represent the views of DFID or have the support of the British government.
On 22 July 2014 the UK government hosted the first Girl Summit, aimed at mobilising domestic and international efforts to end female genital mutilation (FGM) and child, early and forced marriage (CEFM) within a generation. You can find out more at: www.gov.uk/girlsummit2014
Keep in touch. Sign up for email updates from this blog, or follow Nell on Twitter.