Since 2010 I've served as the UK's first ministerial champion for tackling violence against women and girls (VAWG) overseas, and developing this role has kept me quite busy. From the UN to the UAE, I've compared notes with ministers, officials and civil society groups in capital cities and with community groups in the most rural villages on how we can end this global epidemic.
Yesterday I began my final foreign mission on this important agenda – to India and Burma - and it was a long and interesting day. After an arrival briefing from our High Commissioner and senior staff in New Delhi on the key issues related to VAWG in India, I met a group of LGBT activists and campaigners who talked to me about their fight for the decriminalisation of homosexuality. I always find it fascinating how inter-linked gay rights and women's rights are right across the world. Both issues challenge patriarchal traditions and in many cases across the world, gay rights quickly follow movement on women's rights.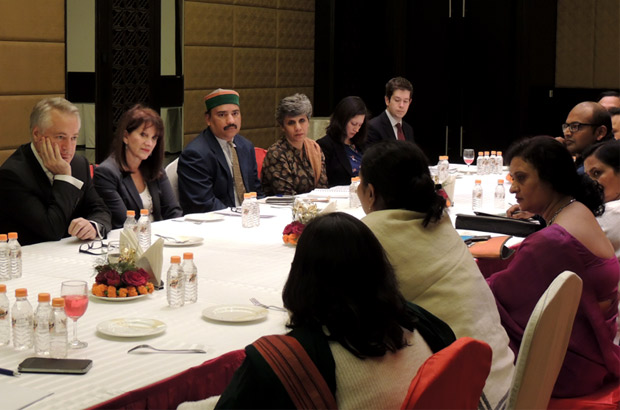 In the afternoon I flew to Indore in Madhya Pradesh - India's sixth most populous state with 72 million people - and met with prominent civil society representatives and local government leaders who work on tackling VAWG on a daily basis. It was very encouraging to see NGOs and government officials debating these issues openly together - a good sign that they're used to working together! And the scale of the problem in Madhya Pradesh will require them to collaborate for a while yet; among women aged 15-49, 45% have experienced physical violence and over 59% of girls in rural areas are married before the legal age of 18.
This is my second visit to India as VAWG champion - the first was in 2011 - and it's already clear to me that some progress has been made since then. The shocking Delhi bus rape case in 2012 has prompted a national conversation that continues today. It's no longer just feminists, aid organisations and governments like the UK trying to bring attention to the issue; there is now, finally, a national movement for the protection and empowerment of women.
To be clear, there is a long way to go in India. But I believe India has the political leadership in place to take some great steps forward on this issue.
More updates from Madhya Pradesh tomorrow.
Sign up for email updates from this blog, or follow Lynne on Twitter.