The New Year started with humid weather and heavy rains in Dar es Salaam, portentous signs for a year likely to bring change, not least in parliamentary elections - as President Kikwete completes his final and second term in office, late in 2015.
Breaking the monotony of the January blues and New Year resolutions was an event celebrating the work of the civil society agency Twaweza. It's charismatic founder and head Rakesh Rajani was passing the leadership baton onto Aidan Ekakuze, and hundreds of supporters and friends had gathered at the Karimjee Hall, a grand old colonial building close to the botanical gardens in Dar's centre.
The eclectic mix included a wide spectrum of Tanzanians from government, civil society, NGO's, activists and elders, all passionate to develop their nation, hold its leaders to account and empower its citizens to be a force for change and good. Most striking to me, and what really brought home the influence of Twaweza, were the former business and government officials who also spoke with passion on topics such as the scourge of corruption and the crisis of failing schools and illiteracy.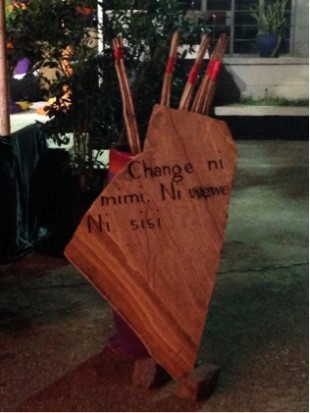 Change: ni mimi, ni wewe, ni sisi! (it's me, it's you, it's us) was the motto etched on a slab of rock by the speaker's podium. The former Controller and Auditor General spoke with passion on the productive working partnership with Twaweza to open up audit reports and all sorts of information: procurement, contracts, budgets, performance data to promote accountability was heartening.
Tales from Rakesh's earlier days with Haki Elimu (friends of education) network and the clashes with the government over education policy really emphasised that it requires more than just finance and technocratic solutions to compromise and bring lasting, positive change. It's welcome to see Twaweza's rapprochement with government and a healthy respect for one another's position develop: the Minister of Education now cites the UWEZO learning outcome results from students in some speeches he makes and has instigated a national early grade literacy and numeracy assessment to track progress.
Rakesh will doubtless continue to poke fun at the establishment, not least DFID and advocate for change in his expanding international work with the Open Government Partnership and the Ford Foundation. I wish him well and look forward to working with Aidan and all of the Twaweza team in the coming year. To quote another slab of rock, with words of African wisdom:
The truth remains that if we want our children to learn, we need to look into the mirror. For change will not just come, unless you make it happen.
Keep in touch. Sign up for email updates from this blog, or follow Ian on Twitter.