Three months ago, the bazaar in Garmsir, southern Helmand, stood empty.  Stalls were bare; some were shuttered, others all but derelict.  Fighting between the insurgents and the Afghan and international forces meant the population had left the district centre, leaving behind a ghost town.  Insecurity was limiting people's opportunities: business people couldn't trade.
Garmsir bazaar is one small example of the scale of the difficulties Helmand faces.  Afghanistan as a whole is the fifth poorest country in the world.  Helmand is one of the least secure parts of the country.  And insecurity breeds poverty.
Today is Blog Action Day, a day when bloggers around the world are encouraged to write about a particular subject.  This year, that subject is poverty.
Poverty is a problem for Helmand, but is inextricably linked to security.  Every Helmandi I've spoken to has told me that security is their number one concern.  Without security, Helmandis can't send their children to school, their sick to hospital or their goods to market.  If security doesn't improve, poverty reduction and development are inhibited.  And without reduced poverty and increased opportunities for the people of Helmand, improved security remains elusive.
That is why DFID is working in Helmand, alongside and as part of the UK and international, civilian and military team.  While the short-term goal of this team is to improve security and stabilise the province, and development is impossible without the achievement of this goal, it's no good 'winning' in the short term only to 'lose' in the long run.  If we don't work now to reduce poverty in Helmand, we risk a return to insecurity in the future.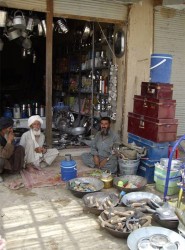 Garmsir is now bustling once again.  The district centre has been secured, people are returning, and lives have been picked up again from where they left off.  To ensure this improvement endures, we are now working with the local people to refurbish the bazaar and provide it with streetlights, rebuild the irrigation system and rehabilitate and restock the school and hospital.  The vicious cycle that led to the abandonment of Garmsir in the spring has been turned into - and now needs to remain - a virtuous circle of security driving development driving security.
You can read more about Garmsir in an article in the Independent from August 2008.