I assume that if you have internet access (and perhaps own a computer) then you've probably eaten without thinking, as many of us do every day.  There's nothing wrong with that.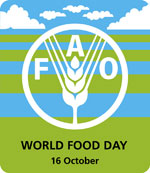 I'm writing this as we mark World Food Day.  Living in Ethiopia - which has over 6 million people relying on emergency food aid - World Food Day feels particular relevant.  What are the causes of the current food crisis here?  A combination of the global spike in food and oil prices this year and a couple of consecutive failed harvests.   If you don't have much to start with, you and your family are vulnerable to being pushed into needing emergency assistance.
DFID has provided £42m this year to help respond to the food crisis in the Horn of Africa, which includes Ethiopia.  Saving lives like this seems like a good use of money to me.  But as Head of DFID's programme in Ethiopia, I'm conscious that emergency aid doesn't represent the best value for money.  It's far more cost-effective to stop people needing food aid in the first place.  This is exactly what the 'productive safety nets' programme aims to achieve in Ethiopia, providing cash and food for work and helping people stop having to sell off vital assets when times are particularly hard.
In the long-term, development assistance needs to prioritise agricultural growth and productivty, if we're to make sure that in years to come everyone, no matter where they live, has enough to eat.  In a nutshell, that's what World Food Day is all about.
We should aspire to a future where World Food Day isn't necessary.  But will there always be hungry people?