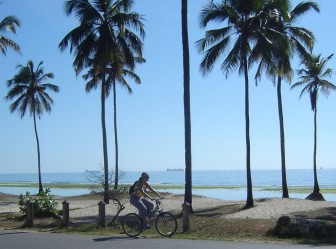 One of the things I miss about living in London is cycling to work. So once I realised that it would only take around 20 minutes to cycle to my new office in Dar Es Salaam, I was keen to get back in the saddle.
There are a lot of similarities between cycling in London and cycling in Dar. The traffic is equally crazy in both, making cycling a faster way of getting to work. In Dar, the drivers are slightly more…er… unpredictable shall I say, but much of the way I can ride on a path which is parallel to the road and functions as a pavement and cycle lane (although no official red tarmac here of course).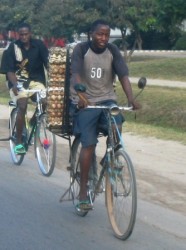 There are many differences though; other cyclists in London don't tend to carry their daily wares on the back of their bikes for example. People here carry fruit, fish, and most impressively great stacks of (full) egg boxes. Although I have always enjoyed the views of the Thames, it is a pleasant change to swap them for the Indian Ocean. Plus - as I am a bit of a fair weather cyclist- the constant sunshine (at this time of year) is wonderful.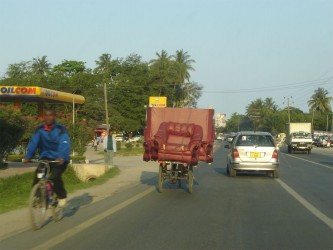 When I first started cycling in London I found it was a great way to see the city in a new way, as you take short cuts through previously unknown areas, and you get closer to people, out in the fresh (ish) air. From this first go at cycling here I have found the same to be true. Tanzanians are incredibly friendly people, everywhere you go people greet you and ask you how you are, and this seems to happen even more when you are on your bike. Children shouting 'good morning', and people smiling and greeting you in Swahili as you pass makes the journey more interesting and fun, although to start with it is slightly off putting for someone who is used to total anonymity in London, where the only reason anyone would talk to you would be to tell you to 'get out of the way'!