I promised to talk more about the programme of support to statistics that I am working on at the moment.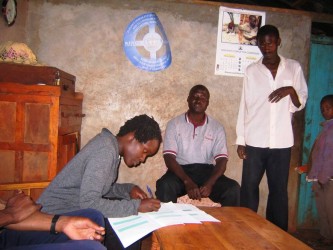 At the moment I am working with the Government, the World Bank and other Development Partners (DPs) to develop our plan to support the implementation of the Tanzania Statistical Master Plan (TSMP).
This plan has been developed with wide consultation with those who produce and use data in Tanzania, and the DPs have agreed to support its implementation with a 'basket' or 'pooled fund'. At the moment we are working to set out some more detail on how the goals of the plan will be reached and how the support will be provided. I have also been under scrutiny from my colleagues in the DFID office to ensure the project is well designed and managed before DFID can agree to contribute funds.
Aims include giving the National Bureau of Statistics (NBS) more independence from government (similar to the process that Office for National Statistics (ONS) in the UK has just been through) as well as making improvements to the data they collect and the ways they analyse it, and making it more accessible to the public. Core surveys will be implemented in a sensible sequence, and underlying methodologies and the capabilities of their staff will be strengthened.
NBS will also develop a role in working with other parts of government who collect data. This is one of the most challenging areas and the TSMP focuses on some key ministries first (health, education, agriculture and local government). A lot of work is required to improve the complicated and large data systems and the ministry statisticians need to be clear about how they can draw on the NBS as a source of expertise. I can relate well to this as I am a statistician working in a ministry (in DFID), but the ONS is my 'professional home'.
This type of all round progress is made possible by NBS having developed a strategic plan and donor support and advice coming in line behind their own goals. It requires a lot of planning, and paper work at this stage, but by the end of this (five year) project, we hope it will make a real impact on the amount and quality of data that is available on Tanzania.
Having good data helps decision makers make the right decisions, and in turn making better decisions means more impact on the lives of people (including the poor) in Tanzania.