In a previous post I argued that focusing on a particular type of technology is somewhat of a distraction when looking at the important issue of internet access for the world's poor. I think there was broad agreement, that in reality, a combination of technologies and not a single solution will tackle the access issue.
Introducing web 2.0…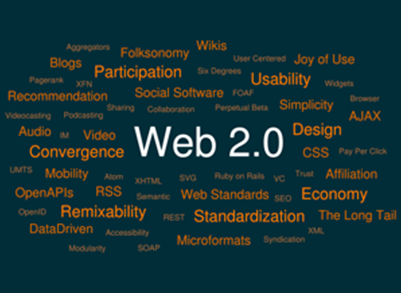 But what about the content? How can we provide a smarter way of ensuring that relevant information gets to those who need it the most? Better still how can we solve the challenge of delivering content to multiple consumer platforms ranging from computers to cell phones?
I think web 2.0 can help. I know it is a buzz word, often surrounded in controversy.  But what is it and what does it mean? More importantly does it have the potential to deliver relevant content to those that need it the most?
In a nutshell web 2.0 describes a new trend both in the use of the internet and the underlying technology that supports it. It is a shift away from the static pages of early websites to a greater emphasis on a 'standards' based approach to collaboration, information sharing and social networking.  The new approach makes it much easier to develop, share and access content. Examples of this include; RSS news feeds, Wikis, blogs and podcasts.
Arguably web 2.0 is less about technology and a lot more about relevant content generation and social collaboration. In short it brings people together.  Modern sites based on these new standards become the platform, much in the same way that computers have been. It is ironic that web 2.0 is viewed by many as a platform for entertainment (YouTube, and FaceBook for example), but as Ethan Zuckerman points out in his blog, the underlying technology is equally a powerful tool for civil society and other groups.
Web 2.0's impact is already being felt throughout parts of the developing world. And solutions to the connectivity challenge are being worked on globally.
For example in Nairobi, Kenya, a group called SkunkWorks was formed to look at combining the functionality of low-end mobile phones with the internet.  They are even looking at broadcasting local television programmes on regular mobile phones.
This unique blend of cutting edge web technology and low cost tech is not only exclusive to the private sector. It has the power to help other sectors too.
Take Ushahidi - a great example of what can be done. This pilot web service collected reports from users in South Africa and Kenya on incidents of violence, unrest and displaced people. Users were able submit incidents via text on their mobile phone. The data was then overlaid on Google maps – known as a 'mash up'.
The accessibility challenge still remains but I think web 2.0 is a step closer in the right direction. So when you next spend a few guilt-ridden idle hours surfing YouTube, remind yourself that similar technology is also helping transform the very way we interact together across the planet.