As people around the world concentrate on HIV/AIDS - today is World AIDS Day - it's hard to know where to focus here in Afghanistan.  We just don't know much at all about the scale of the problem.  Data for health in general is very poor indeed, but in a highly conservative society it's still more difficult to find out about a virus that remains taboo.
Even so, there are people making valiant efforts to raise awareness of what HIV/AIDS is, how it is - and is not - transmitted, and what the implications are of contracting it.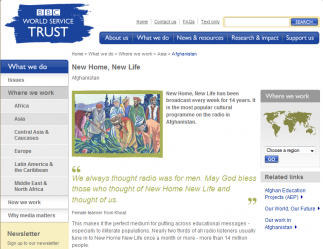 DFID funds a hugely successful radio show in Afghanistan called New Home New Life (NHNL).  The show is made by the BBC World Service Trust, the BBC's international charity.  A family-based serial drama along the lines of The Archers, NHNL has been running for 14 years.  Every episode covers different educational issues.
NHNL ran a groundbreaking HIV/AIDS storyline from July to November this year.  The story is carefully tailored to provide listeners with the facts whilst remaining culturally sensitive.  Gulalai is a midwife who has helped with a delivery to save an HIV-positive mother and her baby's life.  After the delivery, she discovers that she may have contracted the virus.
Many of the characters call AIDS "an epidemic" and "fatal".  They are unaware of how HIV is transmitted and fear they may catch it through contact with a person carrying the virus.  Gulalai's husband, Sarwar Khan, refuses to eat the food she has cooked.  He tells his family that they should shun Gulalai, forbids Gulalai from seeing their son, and decides to marry a second wife.
Yet other characters know more about HIV/AIDS.  Gulalai and her brother, Rahim, know that HIV isn't transmitted by simply being near other people.  Through the characters' conversations and relationships, we learn that HIV can't be passed on by eating or sitting together or greeting one another, and the gently negative views of Sarwar Khan's actions show us that an HIV-positive person does not need to be avoided or feared.
Happily, Gulalai finds out at the end of the storyline that she remains HIV negative - and of course, her marriage comes good in the end.
Perhaps - thanks to the efforts of those like the BBC World Service Trust - on future World AIDS Days we'll know a little bit more about AIDS in Afghanistan.
DFID will run a compilation of video and audio clips from DFID-funded TV and radio soap operas in mid-December - keep your eyes peeled!