Mozambique is known as a 'donor darling', in that there are lots of agencies that flock to work here, which is a reflection of both the level of need and on good performance by the government improving the enabling environment for development. There is openness on the budget, and strengthened public financial management which allows a number of agencies to provide money directly into the governments own budget, rather than financing projects or non government organisations (NGOs)  (although there also remains a lot of funding for projects and NGOs). There is also a good working relationship with Ministries, such as the the Ministries of Health and Education, which allows financing directly into the accounts of these Ministries to achieve clearly defined and measurable objectives.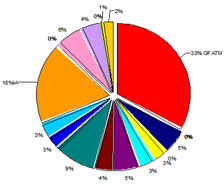 Whilst being a donor darling brings the benefit of increased funding, it also brings the challenge of coordinating large numbers of donors. This pie chart (click to enlarge) shows the number of donors in Mozambique supporting the health sector through a common bank account in the Ministry of Health called PROSAUDE. Funding in 2008 from donors is $147 million, this is about the same as the funds provided by government, so the total funding managed by the Ministry for health is about in 2008 is about $300m. For a population of 20 million, this works out at roughly $15 per capita.
It can be seen from the Chart that one of the biggest donors is the Global Fund to Fight HIV/AIDS, TB and Malaria (GFATM), which provides about a third of the funding available to the Ministry of Health. The GFATM funding is significant and very much welcomed, although the process of applying for and reporting on funding has added an extra layer of reporting for the government which is already producing progress reports for the many other partners through against an agreed set of performance indicators.
Keeping 26 funding agencies happy, with regular reporting on performance and expenditure has huge administrative costs for Ministries of Health in poorly resourced countries, and one of the things that we have been working on in Mozambique is the development of a common framework for reporting and measuring progress, with a single set of indicators that all donors can buy into.
That's all I have time for now, but in my next post, I will try to illustrate some of the consequences of donor money not arriving regularly as planned, for delivering health services.