VSO Sustainable Classroom Project, Kwalli Primary School, Kano, Nigeria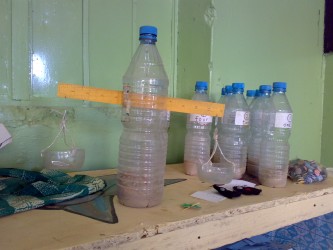 I visited VSO Nigeria volunteer Sue White's Sustainable Classroom Project situated in Kwalli Primary school, just inside Kano citadel's ancient mud walls to see the progress she had made in (i) establishing a teacher professional development resource and outreach facility and (ii) abolishing use of the cane!
Against the odds and a laissez faire attitude of local education administrators Sue has managed to pull together an impressive micro-project at Kwalli School.  A demonstration classroom has been kitted out with an array of low or zero cost teaching aids, constructed largely using recycled waste such as plastic containers, fabric and wood.  Unlike most surrounding classrooms the rooms are decorated with attractive murals and a makeshift booth outside allows children to play at shop keeping and learn in an active, friendly environment.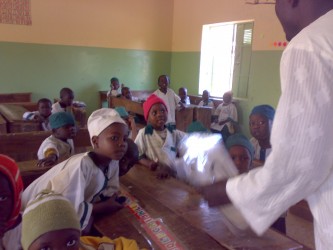 Teachers from this and surrounding schools come to learn how to duplicate this approach and also pick up important teaching skills that can transform lessons from being dull rote chanting: 'chalk and talk', to a much more conducive 'Active Learning' experience in which children have fun, explore and learn.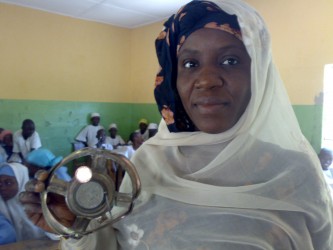 The school library has also been transformed, using locally made shelves and donated books and resources, which are used directly by the teachers, students and also serve as an example to other schools of what is possible.
Sue has also been campaigning against the use of canes: 'bulala', which are used by some teachers (and parents) to intimidate and beat children to retain discipline.  At home she has a fearsome collection of canes she has persuaded teachers to relinquish; the teachers are initially reluctant, but often find that student discipline improves remarkably!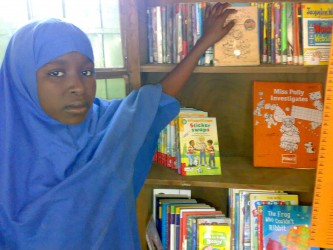 Overall the VSO Sustainable Classroom project demonstrates the potential to make a big difference at the local / micro level, but also how hard it is to scale up effectively. Kano State has thousands of primary schools, and the local education services struggle to provide the even the most basic resources and the teaching workforce are incredibly under-skilled and de-motivated.
A challenge for DFID's education programme ESSPIN which is supporting States such as Kano is how to introduce better classroom practice such as those shown above and cascade the skills and 'know how' through the pre- and in-service teacher programmes operated by the teacher training colleges.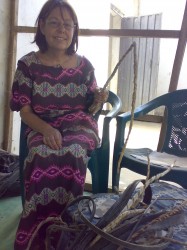 A weakness of the current approach is that volunteers try to operate on a shoestring budget and are dependent on state agencies for support budget. Government staff often don't appreciate the volunteer ethos and undervalue their potential inputs as second rate.  Linking long term volunteer placements in establishments such as teacher training colleges to the resources of better funded development programmes is a strategy that may lever greater impact, whilst saving on expensive long term technical assistance inputs.