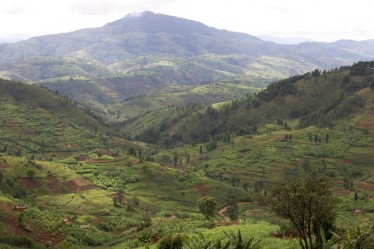 The airport advertising boards declare that Rwanda is 'The Land of a Thousand Hills', and that's just what it looked like from the plane as I descended into Kigali, the capital city.
I could see green hills dotted with numerous small communities, sliced by rivers winding down to Lake Victoria, and the occasional flash of the sun on a corrugated iron roof.
At the end of the eighteen hour overnight journey, it was great to be met by Celestin from the DFID office who took me to the house which is to be my home for the next six months while I am Head of the DFID team in Rwanda and Burundi. The house is really bare and lifeless at the moment as all I have is the contents of a single suitcase. My other stuff will come when the boxes arrive. But there is a bed and sheets, and it was good to collapse for the night.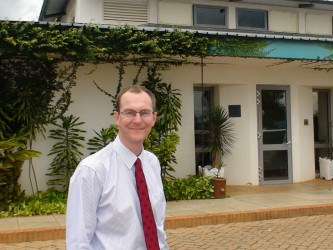 So yesterday was my first day with my new team. I did the easy things first like learn how to open the combination on the office door, adjust my chair to fit my long back, and find out where the coffee is made. Then it was on meeting people – we have a team of 23, consisting of Rwandan nationals as well as UK- based staff, all who seem fantastically committed to our goal of reducing poverty in Rwanda.
And that's why I am here too…like them, I want poor people who live among the thousand hills to have a better life – square meals to eat, jobs to earn money and healthy kids going to school.