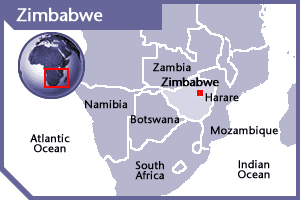 The final leg of my journey into Zimbabwe was ahead of me. We left behind the shopping bazaars in Johannesburg's airport: duty-free shops piled high with chocolate, sweets, perfume, cigars, South African wine and matured whiskies and barrel aged brandies. The new airport building, constructed partly in preparation for the 2010 football World Cup now also has a range of designer shops, selling everything from Tumi luggage, Hugo Boss clothes to Versace sunglasses. Most seemed despairingly empty as I walked past them.  Was the recession biting here as well I wondered, or were they just waiting for visitors yet to arrive?
In contrast to the London-Johannesburg leg of the journey, the first seven rows of spacious seats on the plane into Harare were almost totally empty....a strange sight. They were the business class seats. Behind in economy ("coach"), the plane was full. Was this a sign of the business situation in Zimbabwe, I reflected? The only passengers in business were two well dressed black ladies, and an Asian man wearing a neat suit.
In the packed economy class, there seemed to be a variety of people, some much more casually dressed: young single adults, families with children, a few older folk, Zimbabweans and others. Workers, families returning from holidays, aid agency workers, and who knows who else?
Looking out of the window as we flew across Gauteng province in South Africa, the land looked well ordered, under cultivation, and the roads well populated with cars. I looked down again after sometime, while I'd been thinking about my job ahead, and noticed a change. Now the land had become wilder, with brush and scrub, trees growing haphazardly dotted around here and there. Intermittently there were very small parcels of land which had been prepared, though some were still reddish brown earth, others had become greener. It was hard to see what was growing, but it didn't look like a lot. We must now be over Zimbabwe I thought. The bright sunlight of the early part of the journey gave way to a bank of thick, enveloping white cloud, and we flew on into it.