Do you know where swallows go to in the Winter? At least two of them come and sit on the ledge outside my bedroom window here in Kigali. When I saw them this morning I was immediately reminded of the children's book 'Dear Olly' by Michael Morpurgo, in which a swallow flies from the UK to Rwanda and meets a young man working with children who have been made orphans in the genocide of 1994. It is an excellent book which I have read together with each of my three daughters.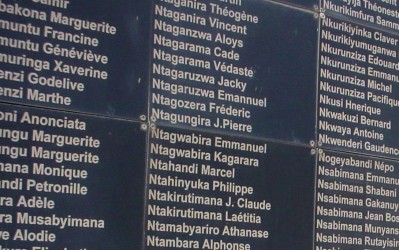 So yesterday I visited the Kigali Genocide Centre, where many of the people who were killed in the city are now buried. It is essential to learn about the genocide to understand what Rwanda is like today. The numbers who died are so vast that I found it easier to relate to some of the photos and stories of children which are displayed in the memorial.  The pictures I have taken show a few of the names of the victims on the memorial wall, and the burial area. I don't have good words to describe what I felt, but it is an important place to visit.
At least I was part of something really positive yesterday as well. After careful consideration, DFID agreed to support the Government of Rwanda's Vision 2020 Umurenge Programme with funding for the next four years. This is really a social security programme for the very poorest in society, including widows, orphans and the elderly who have no other means of support - either by direct transfers of cash, or cash payments for taking part in public works like road maintenance, or small loans to start businesses. There are many very poor people in Rwanda who need this kind of help, and I am looking forward to visiting the programme soon to see how it is going.
I can still see the swallows; they are flying around now catching breakfast, I guess. They will remind to me of the reason that I am working here in Rwanda.