I have just participated in two days of workshops and a final consensus meeting to come to a joint government and donor view on how the health sector in Mozambique is performing. You will remember from my visits to Gaza Province that three teams had been out to three different provinces to look at the performance of the health sector. Each team produced a 13 page report summarising the main findings and from this the essential nuggets of information on whether health services are improving against an agreed set of targets is being assessed.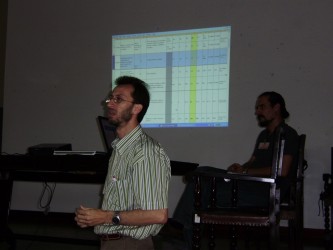 Two consultants, Jose Carlos Lopes and Michele Santord were recruited to review the reports and to conduct workshops of Ministry of Health Officials and development partners, to come to a consensus agreement on how things are going and to identify key recommendations. Jose can be seen in the picture, with Michele in the background, giving an animated presentation in the main lecture theatre on the first floor of the Ministry of Health in central Maputo.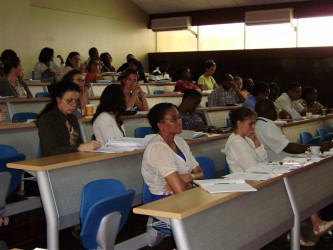 Dr Gertrudes Machatine, the Director of Policy and Cooperation can be seen on the first row of the lecture theatre, as a presentation on performance against the 38 indicators that make up the measures of the health sector (the performance assessment framework) are discussed. It is a difficult task, both setting and measuring progress against targets, and we had a whole exercise to try to verify how accurate the data collected at the district levels is. It is only when you sit back and look at the improvements expected in a year that the enormity of the task set for the Ministry of Health becomes clear. In the UK, we expect incremental improvement in health, but usually these improvements are supported by increased investment, and certainly the health budget in the UK has seen increases in recent years. However, funding levels for health in Mozambique were fairly static between 2007 and 2008, so the improvements achieved come against a backdrop of limited resources, and therefore have to be achieved by squeezing greater efficiency from the system.
Whilst every system can be made more efficient, rapid progress towards the MDGs will require increased investment, and this is a particular challenge in times of economic recession. Progress in Mozambique over a longer time frame has been good. Minister Garrido, in his speech to the National Coordinating Council for Health, highlighted reductions in cases of malaria, a reduction in measles to just 250 cases in 2008 and an increase in mothers delivering babies in health institutions as real examples of the considerable progress that has been made. However, he also acknowledge the challenges of lack of health workers, poor monitoring and evaluation systems, a weak infrastructure of hospitals, medicines warehouses and health clinics, as well as lack of access to clean water, sanitation and poor nutrition as major factors delaying further improvements in health.
We will have to wait until the 3rd of April, when we have the large joint meeting on health to find out the final assessment of the health sectors performance - but in my view, steady progress is being made and there are a large number of very dedicated people within the Ministry of Health trying their best to make a difference.