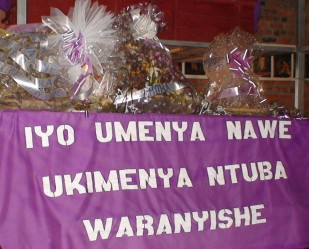 Hundreds of people trudged up the long hill to Nyanza, many of them wearing something purple, a neckscarf, a wrap, even a purple wristband. The colour purple is the colour of mourning in Rwanda and yesterday, 7th April, was the 15th Anniversary of the Genocide. At the top of the hill I joined the large crowd at the Commemoration Ceremony. Wedged between two ambassadors, I heard heart breaking accounts from survivors of the massacre which took place on the site where we were seated, with no one to protect them against the brutal attacks of the militia. 
But it was the young people who moved me most: girls dressed in purple and white reciting poems in Kinyarwandan about the need to take courage for the future in spite of the sorrow and grief, and a youth choir with 'Never Again' emblazoned on their T-shirts and headbands, singing with emotion about the importance of never forgetting the genocide. And it was emotional. Even the Government Ministers were shedding tears, remembering their experiences and lost loved ones. I can't imagine it - one million people killed in 100 days: as the Lady Mayor of Kigali said 'an unspeakable evil' had gripped the country.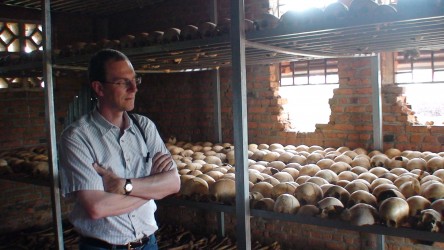 Last week I visited Ntarama church, a genocide site about twenty miles south of Kigali. Again, a terrible massacre, that took place in a church, a sacred building where people had fled for safety. The church has been preserved and the possessions of the victims are still there, clothes hanging over a beam, Bibles thrown in a box, jerry cans for water stacked on a shelf.
Am I blogging too much about the genocide? I don't think so - it absolutely defines everything about Rwanda. 1994 was Year Zero for this country: a million people dead, infrastructure and services destroyed, and a society torn in two. But looking back after 15 years you can see real progress; 95% of primary school children are enrolled in class, women MPs outnumber the male MPs, and poverty levels falling. As the President said in his speech today; 'Remember the past, yes; but help the country build the future'.