Have you heard that water flows one way down the drain in the southern hemisphere and the other way in the northern hemisphere? Is it true? I live 1 degree south of the equator, and when I experimented pouring water in my washbashin, the water flowed anticlockwise. Does it flow clockwise in the northern hemisphere? Why not try it for yourself, and then look it up on the web and try and work out what is true?
Living south of the Equator has some definite advantages: one is that I get to see the Southern Cross star pattern at night time: it is a great constellation telling you exactly where south is. But what is interesting is that I can actually see the Southern Cross from here in the centre of Kigali. In much of the UK, where I come from, it is hard to see the stars because of light pollution, but that's not the problem here.  Only 6% of households have power in their homes, and most of these are in the major towns, so rural people rely on firewood, charcoal and kerosene as their main fuel.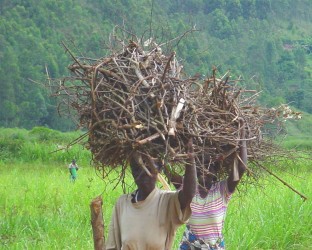 Yesterday I met these two women from the village of Rwesero about 35 km north of Kigali; they were virtually buried under their loads of wood which they had gathered for cooking. The head-load will last for a few days to cook a pot of beans and potatoes and heat water for tea. But it is hard work collecting the sticks and a long way to walk. There is electricity in Rwesero, but only a very few houses have connections, and they will only use it for lighting as electricity is much too expensive to cook with.
Most of Rwanda's power is currently produced by big diesel generators, but this is very costly and relies on being able to truck up fuel from the East African coast, a thousand miles away. Recent news is that the methane under Lake Kivu is starting to be used to produce electricity, and there are plans to hugely increase the hydro electric plants on the Rusizi River between Rwanda, the Congo and Burundi.
Hydro power is a terrific clean energy source with virtually no carbon impacts, but the big risk with climate change is that rainfall will be reduced and there won't be sufficient water in the rivers to generate power.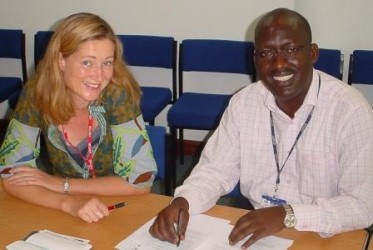 And this is where Liberal Seburikoko and Maresa Oosterman come in. Liberal and Maresa are DFID Rwanda's climate change leaders. They have been helping the Government of Rwanda organise a meeting in Kigali this week for African Finance Ministers to learn about the effects of climate change and the financial opportunities available for adaptation or mitigation. So this conference, and the lead-up to the world Climate Change convention in Copenhagen, are really crucial for Rwanda and other small nations.
While I love seeing the Southern Cross from my balcony, if losing that sight means that the women from Rwesero have got power, it is a loss well worth taking.