Readers of my earlier blog will be familiar with the Business Call to Action (BCtA), a great initiative that aims to get business involved in the development agenda by thinking how, through their core business activities, they can have a positive impact on the lives of people in developing countries. Our team has been working hard alongside the UN Development Programme to commemorate the 1 year anniversary of the initiative to celebrate the successes so far and look to the future.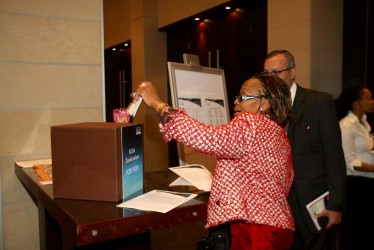 On Thursday 11th June, representatives from 60 African and international businesses came together along with other dignitaries including the Ugandan Minister of State for Industry and Technology the Hon Simon Lokodo for a side event at the World Economic Forum on Africa in Cape Town 2009. They discussed the good progress the 18 initiatives that have already been announced have made towards their aim of improving the lives of people in poor countries. There was also exciting news from Microsoft Africa, Goldman Sachs and Biwater that they intend to develop initiatives under the BCtA. The details of these intiatives will be formally announced once they have been fully developed.
One of these ideas put forward was plans by Biwater to finance, design and construct a water treatment plant in Omdurman, part of the Sudanese capital Khartoum. Biwater is a British company that specialises in water management and treatment. Through the use of innovative financing, the company will bring, for the first time, clean and safe water to 1.5 million people in this poor suburb of Khartoum, many of whom have moved here to escape conflict, poverty or environmental degradation. It is envisaged that if this project is successful it can be expanded to other countries in Africa. The details of the project are still to be finalised in collaboration with the BCtA partnership; watch this space for details of the formal announcement of this initiative!
The DFID website has a more comprehensive note of the event itself, as well as details of how else we work with business to tackle poverty across the globe. I will add videos from Coca-Cola and MAP International when I can upload them and the full collection of videos from the event will be available on the Business Call to Action website soon!