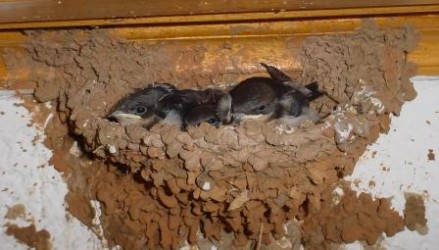 OK, let's back to the Swallows - I've got to write about them first, as several people reading this blog have asked me how they are getting on.  Four weeks ago, the three baby swallows in the nest on my balcony fledged.   ie they came out of the nest and flew - up onto the guttering, and then, after four days of shouting at their parents to feed them - they were gone.  Just like human children, I expect; their departure left me feeling at little empty.
To add to that, I have been away from Kigali for a couple of weeks in the UK where a close relative passed away, which was very sad for me and my family.  Most of us from the UK don't encounter death regularly; children are inoculated at birth against all sorts of diseases, everyone gets plenty of good food, and the health service is well equipped and can fix many problems.  But things aren't the same in Rwanda.  This morning I cycled past King Faisal Hospital - which is the main hospital in town, with the best facilities and some of the country's top medical specialists.  But even with this available, some of the richest people in the country will still travel to Nairobi or South Africa if they have serious health problems.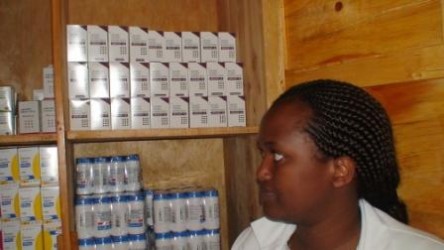 That route is only available to very few, of course; everyone else uses what is available locally.  In the rural areas (ie most of the country) there are small health centres with inpatient beds and outpatient clinics, staffed by nurses and sometimes a doctor, who can treat minor conditions.  The health centre pharmacy should be stocked with the standard range of basic drugs, including ARVs.  But still the current health numbers for Rwanda are shocking to me: 103 out of every thousand children die before their fifth birthday - that is one in every ten little kids you see on the street die before they are 5 years old (it is 6.5 per 1000 in the UK), and 750 women out of every 100,000 giving birth will die as a result of their pregnancy (that is one woman dying in childbirth every three hours ).
The big problem is resources: the Rwandan Government does not have enough money to go round all the needs: to put it in perspective, the British Government last had the same amount of money per head available as Rwanda has now to spend on its population, in 1709 - exactly 300 years ago.  So choices are really tough, and the way the Government deals with it in the health sector is having a mutual contributory health insurance scheme, known as the 'Mutuelles de Sante'.  Membership costs £1.30 per person per year, and the poorest should get their contributions paid.  About 70% of the population are members, and attendance at health centres has hugely increased as a result.
But because people have to make a co-payment of £0.20 for each visit and pay 10% of the cost of hospital treatment, some people still do not come, fearing bills which they have no way of paying. Take Lauent Rugero, the blind, disabled, ex-soldier I met in Kayonza; there is no way he could afford these payments; he only has a bed, some clothers and a few cooking implements in his 10 foot square mud built house. But other, richer people can afford them - and could make even larger contributions.  Some argue that a completely free system would be best, but the Government fears unnecessary use of the system and creating a culture of dependency, so financial contributions continue.
Controversial stuff, certainly, (see this document, Towards universal health coverage in Rwanda, a 2007 briefing by Caroline Kayonga, Permanent Secretary, Ministry of Health, Rwanda) but vital to get it right.  DFID is a major contributor to the health system, but in the long run it will be Rwandan people and their Government who will shoulder the full burden of paying the costs of health, and they need a system that will fit their circumstances.
The swallows were successful in bringing up their offspring - I don't think any died; luckier than many families living here.  Now they have even come back to the nest to have another brood, and I won't be able to resist writing about their future progress.