We Brits are famous for always talking about the weather, but people here in Nepal are doing that a lot too at the moment. But the different nationalities come at it from a rather different angle. In the UK we love it when the sun shines. In Nepal, it's the rains that make people happy!
It has been very hot and humid in Kathmandu for the past few weeks and the monsoon is showing no signs of arriving. I was in a meeting earlier this week, and half way through the meeting, it started to rain heavily. The temperature immediately cooled and the meeting participants looked at one another and smiled - it's raining! Usually in the UK, people complain when it rains. Here, it is seen as a good thing - not only because it cools the air, but because the rains are absolutely vital for the 20 million people in Nepal who rely on rain to grow food.
With the monsoon about two weeks late, and just a weak surge on 23rd June in some districts in the east of the country, farmers are left worrying that the long dry spell will badly affect the upcoming maize harvest and the paddy plantation. At this time of the year, paddy plantation should have been at its peak all over the country here!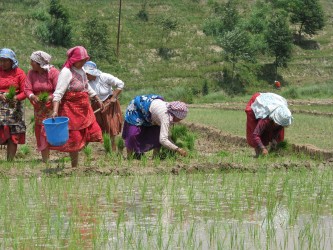 80% of the population in Nepal and 95% of the poor rely on agriculture for all or part of their livelihoods. Land is relatively scarce (as a lot of the country is mountainous) and only 20 % of the total area can be used for agriculture. Irrigation, which in other countries has helped to significantly increase production, is not well developed here. Nepal is only slightly smaller than Bangladesh, but only 36% of the land possible is covered by irrigation, compared with 56% in Bangladesh.
Nepal also has the lowest agricultural productivity in South Asia and is a food importer, importing anything from 0% to 20% of its food needs, depending on the amount of rain received in the previous growing season. So good rains really are critical.
We had a water shortage in the office this week, so had to temporarily close several bathrooms due to a lack of water. Because the monsoon is late, farmers were refusing to release water to the water tankers which normally deliver water to the office (and some homes) as they were saving this for their own paddy fields. Good rains dictate whether there is a good harvest or not, and a good harvest can make all the difference between being able to feed your family, or not.
Unfortunately the rains which came during my meeting had stopped by the time the meeting finished, so we are still left waiting for the monsoon which has become more erratic in past years, as predicted by climate change experts. So I am left with the very un-British sentiment of hoping it will rain again soon!!