Do you think announcements by British Government Ministers make any difference at all to people in Rwanda?  If I told the woman in the red cap who walks everyday along the road past my front gate here in Kigali what Douglas Alexander and Jack Straw said today (7th July), would she take any interest? I reckon that the two statements made today would certainly catch her attention.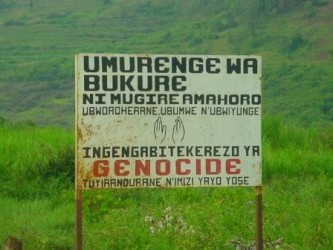 The first was by Jack Straw, Minister of Justice.  He said that the UK is going to change the law on genocide, war crimes and crimes against humanity, to ensure that people accused of these crimes since 1991 can be prosecuted in the British courts.  This is to rectify the situation where suspected genocide criminals from the 1994 Rwandan genocide have not been tried because their crimes took place before 2001. This will put right what many Rwandans feel has been a loophole in British justice.
The second was the launch by Douglas Alexander, DFID's Secretary of State of a new UK policy paper on international development.  You can get all the details here, but I want to highlight a few things that we will be following up hard in DFID Rwanda.  He makes the important point that we need to keep pursuing the Millennium Development Goals - so, it's still a big 'yes' to health, education and clean water.  But the world - and Rwanda - has been changing since the MDGs were established over 10 years ago, and now we recognise even more the importance of climate change, conflict, and economic growth, which underpin all the efforts to get basic services to the poorest people.
My team here are trying to make this a reality.  On climate change we're working with the Rwandan Government to take a leading position in Africa's negotiations running up to the Climate Change conference in Copenhagen in November this year.  On conflict we have a project with the Mines Awareness Trust to finally clear the country of all land mines left over from the war of the early 1990s.  And on growth, we are going to give substantial support for Rwanda's entry into the East African Community, boosting trade, jobs and incomes.

I expect the woman in the red cap may never have known what 'DFID' meant.  But now we have a new logo that she can recognise: 'UKaid': it's clear and simple, and I believe it does what it says on the tin.