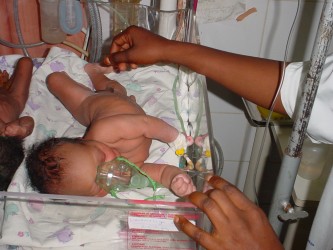 The nurse gently turned the over the little baby in the incubator, checking his condition; she indicated that he was doing well. In the Intensive Care Unit in Kibagabaga District Hospital, Dr Blaize showed us the equipment they have for premature and sick babies. It looked good, clean and new – just like the hospital buildings which were put up in 2006.
At the hospital reception area Dr Blaize borrowed a woman's yellow mutuelle de sante insurance card to show me what it looked like; she misunderstood what he was doing and protested, thinking that the card was being confiscated. Apologising, he returned the card – but it showed me the value that this woman gave to her membership of her healthcare insurance scheme. She had paid 1000 Rwandan Francs (about £1.25) for the year, after which she only needed to pay a flat rate co-payment of RWF250 for each visit.
Just down the road, I was taken to Kimironko Health Centre. Like the Hospital, it is situated in a moderately well off part of Kigali city, so the facilities were in good condition, staff were available to see patients, and the payment system was well organised. According to the mutuelle organiser there are 65,500 people living in the two areas covered by the insurance scheme; of these 35,000 were members, and a further 10,000 had their membership paid for by local non-Government organisations or by the Government 'Farge' scheme which assists children of the genocide. There are other insurance schemes in Rwanda, for the military, for formal sector workers, and private membership schemes, and these cover many of the other people who came – though 5 out of the 100 patients who had come to the health centre that day had no insurance and had to find the full cost of the consultation, tests and drugs.
I want to add a few more thoughts to my last post on paying for healthcare in Rwanda because Rob Yates' comment made me want to go and find out a bit more of the reality on the ground. The World Health Organization is advocating for free antenatal health care, as an essential way of reducing maternal deaths and ensuring that young babies survive. So I have visited two health centres and a District Hospital around Kigali in the last few days, and I was surprised by the different arrangements that exist for health funding.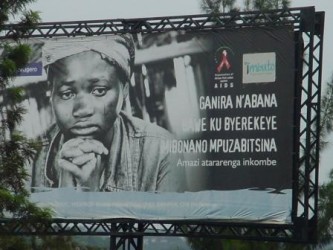 The Cor Unum Health Centre in Kimisagara sector is in a high density housing area, with many very poor people as their clients. The centre is supported by Caritas, which runs over 100 health centres in Rwanda, but the Government also provides funding for 10 staff, and the Elizabeth Glazer Pediatric AIDS Foundations support significant aids work, including staff and drugs. It's a busy centre with at least 200 patients coming per day. The average HIV infection rate is 9.8% for all people tested, but 18% for women aged 25-45, which is significantly higher than the national average of 3%. According to the nurses they have a good supply of AIDS drugs because AIDS medication is well funded in the country, but other drugs are often short.
The mutuelle system works successfully here too.  Membership fees are RWF1000 per year, with flat rate co-payments of RWF200 for each visit. At Cor Unum, antenatal care costs a flat rate of 1000 Rwandan Francs for visits and treatments. For most people, except the poorest, this is a great insurance system. But there are two big questions:
Firstly, can the mutuelle system support the demand for health care? In this centre it looks difficult as they are owed substantial sums of money by the mutuelle organisation, which puts a severe strain on Cor Unum's ability to operate properly.
And secondly what about antenatal care? This is the critical time – pregnancy and little children under 5 when most deaths occur. If these payments can be completely covered for the poorest, many lives would be saved.