I was born and brought up in Bristol, South West of the UK. In Bristol there is a famous bridge, the Clifton Suspension Bridge, which I learned at school was one of the first suspension bridges of its type in the world. It was completed in 1864 and spans 214 metres, connecting Clifton Downs (which was then outside the City of Bristol) with Leigh Woods. It has become an icon of Bristol.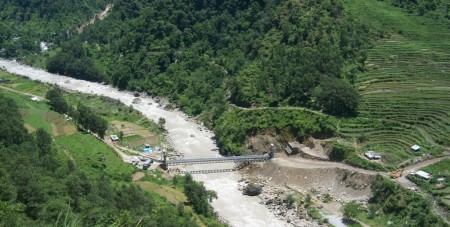 Last week I went to see how suspension bridge technology is being used in Nepal to increase access for poor people to roads and services such as schools and health centres. I went to Dobilla in Parbat District, near Pokhara, to see a bridge which DFID had helped construct. Bridges are very much needed in Nepal, as there are many gorges and rivers – about 6,000 rivers and streams! - and much of the country is still far from accessible. It's estimated that 70% of the population is not accessible by road, and there are parts of the country where it can still take someone 13 days to walk to the nearest road! So while in many other countries DFID no longer builds roads and bridges, here in Nepal we do and it's making a big difference.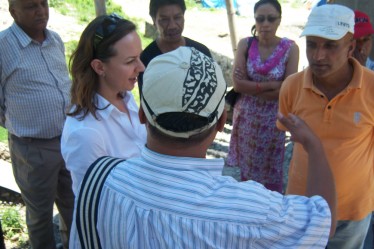 The technology used for this bridge costs approximately half in comparison to the previously used technology and, like the Clifton Suspension Bridge in its time, is testing the boundaries of what can be achieved. The engineer I'm talking to here explained that they learned a lot while building this bridge, using all Nepali materials (except cables, which came from India) and primarily local labour.
I was also told that the suspension bridge is most suitable for the hilly areas. Such bridges connect up to 150 metre wide rivers without any support in the middle and carry up to a 20 ton load. Harsh, glacial-fed river hydrology and unfavourable river bed materials make building multi-span bridges exceptionally difficult. (If you look closely, you can see it looks like a giant Meccano model, which can be relatively simply put together with minimum skill.) If they can demonstrate that this is replicable, it will mean that we can build more bridges more easily and cheaply across Nepal.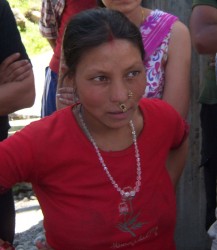 Work on the bridge generated about 18,000 person days of employment – with about 20 % of the workforce female. The woman pictured on the left worked on the bridge and was paid 180 Nepali rupees a day (about £1.40). I know this doesn't sound like a lot, but the average labourer's wage here is less than half of that – 75 Nepali rupees a day. I asked what the bridge would mean to her and she said that it meant she could now get to the nearest hospital in 15 minutes as opposed to 3 hours as previously. It also means that people are closer to markets and can get more money for their local produce than if they have to sell only locally. So in principle, the bridge should help boost the local economy too. An estimated 50,000 people will benefit from this bridge if you count the numbers of people in communities on both sides now connected by the road and bridge.
These kinds of bridges and trail bridges are dotted all over Nepal, particularly in the hill areas, and after a couple of months here, they are to me as part and parcel of Nepal as the Clifton Suspension Bridge is to Bristol.