In my last blog post, on coordination of work in the health sector in Mozambique, I mentioned evidence emerging from a recent survey (the Multiple Indicator Cluster Survey) that shows some of the significant improvements that Mozambique has achieved over recent years. There has been an increase in poor people's access to health and education, which is delivering results in terms of reducing infant and child mortality. Roads are being built and repaired, which is extending access to markets and economic opportunity, and the conditions which encourage inward investment are improving. This, coupled with some large scale economic projects, known as Mega-Projects, is increasing the prospects of Mozambique's development.
Keith Mackiggan, the new head of the DFID Mozambique office had already made the headlines in Maputo, through a press interview in which he applauded Mozambique's ambition to become independent of donor funding by 2025. This will be no small feat, given that currently 50% of the budget comes from development aid.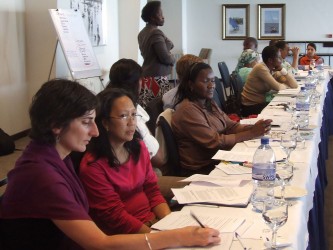 Last week, in meeting rooms overlooking downtown Maputo, the DFID Mozambique team had a day of intensive discussions on the current status of development in Mozambique and prospects for the future (the DFID team can be seen hard at work in this photo discussing how to add value through our programmes). We were particularly interested in understanding how UKAID, in coordination with aid of other agencies, can better support Mozambique meet the needs of its population.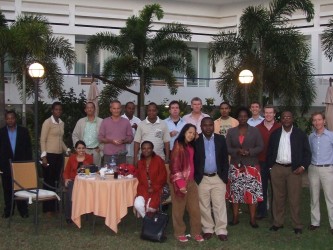 The DFID team, pictured here on the lawns outside the meeting room, discussed Mozambique's ambition to become independent of donor support, and the role that DFID can play in supporting better coordination of current support. This was an important discussion given that September 3rd marks the first anniversary of the Accra Agenda for Action (AAA), which reaffirmed the need for much better coordination of development aid. The AAA made a very clear statement about the need for development agencies to live up to the commitments made in Paris in 2005 to work together and support government led plans to reduce poverty. In Mozambique that commitment is being translated in to action through a well organised coordination process known as the Troika, with development agencies taking it turns to lead discussions on policy priorities on behalf of all other donors. DFID will take on this lead role in 2010. I attach a link here to a description of aid coordination in Mozambique, which informed Mozambique's contribution to the Accra meeting.
Achievements in Mozambique such as an 8% rate of economic growth, massive increases in school enrolment, and significant reductions in infant and child mortality have been achieved, at least in part, due to much better coordination of aid. Next year, DFID will take over from Finland as the lead agency for this coordination process, working with the 19 agencies that provide support to Mozambique's general budget, working alongside a number of other agencies which provide other forms of development aid (of the $1.6bn development aid provided to Mozambique each year, 25% is provided as general budget support, 25% as sector budget support and 50% as project funding). Coordinating this significant volume of aid is important if it is to have maximum impact in support of poverty reduction.
We are beginning to see some of the benefits of better coordination of aid. Take a look at the slides from the MICS survey (below) which illustrates some of the progress made over recent years.