Baobab trees (genus Adansonia) are found in Africa and Australia, and have the ability to store literally tens of thousands of litres of water within their trunk giving them their distinctive shape. This gives rise to their informal name of 'bottle tree'. In dry Northern Nigeria baobabs are common, with the leaves, locally known as kuka, being used to make soup.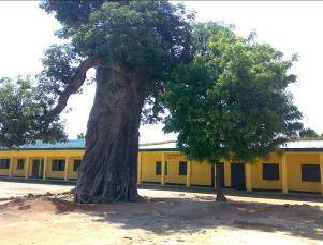 Climate change and the unsustainable rate of use of ground water are necessitating a rethink in approaches to school and community water provision. In this example I observed at Gidan Mutan Daya primary school in Katsina the solution to water storage seemed to have been inspired by the magnificent baobab that towers over the playground!
In the 1st phase of the Girls Education Project (GEP), there was an attempt to provide clean water at all focal schools through the drilling of boreholes that were connected to hand pumps. However in around a fifth of the schools the attempt was not successful due to local geological conditions. Other project interventions such as books, school bags and equipment for income generation (e.g. knitting machines for the school's mothers) led to the school enrolment doubling in 3 years - now over 700 children attend in the shadow of the huge baobab tree. But the school based management committee (SBMC) were still identifying the lack of separate girls' toilets and availability of water as a problem hindering regular attendance. Water isn't just needed for hygiene and drinking at school, it's also an 'incentive' for girls to be able to bring water home for domestic use; otherwise they will be obliged to find it elsewhere, often involving a long walk that can make it impossible to attend school regularly.
When I visited the school, girls' toilets had already been constructed using a GEP financed grant to the SBMC. Water provision was being trialled through the construction of a simple 'rain harvesting' system. The State water engineers had come up with a system that was being installed in 32 schools where boreholes had failed to provide water. It consisted of two sets of plastic pipes and guttering that collected rainfall from the large zinc roofs of the classrooms and channelled the water into two large circular tiled tanks, each capable of holding around 14,000 litres of water.
The tanks had wire screening to keep out reptiles, disinfectant units and removable taps to control usage. The whole set-up was quoted at a price of around N1 million (£4,000 / US$ 6,400).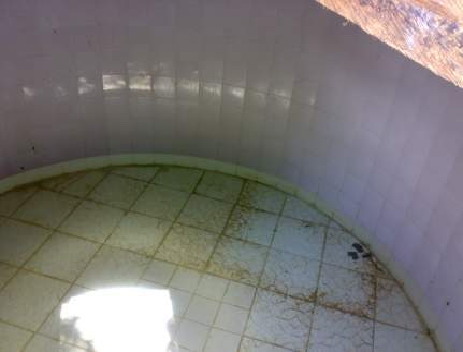 The tanks had just been installed and were still dry. Two days later I stopped by on the way home to see the results of last night's downpour. Each tank now had about 10cm of water inside, it didn't seem much, but this equates to over 300 litres, or about a litre for each student in the school. The water system appeared to be vulnerable on two main counts:
Maintenance and regulating water consumption; especially out of hours when anyone could wander in (like most rural schools there was no perimeter wall) and help themselves. Many schools have night watchmen, but they rarely seem to stop vandalism that leaves most classrooms looking bare and dilapidated. The school will have to be extra vigilant to regulate water use.
Climatic;  in the far North of Nigeria, the rainy season only lasts for 3-4 months a year, with an 8 month dry season from October – May. This may lead to the tanks running dry half way into the school year and necessitate a top-up by a commercial water tanker, especially if consumption isn't carefully regulated. It will be interesting to evaluate in the dry season to see whether the rains filled the tanks and whether supply and demand can be balanced in an equitable manner.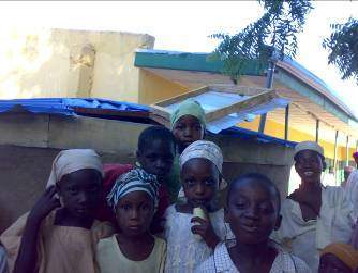 Collecting rainwater is of course nothing new, but testing it in such an arid environment adds new dimensions to the equation regarding what is practical and worth replicating elsewhere in the Sahel.
Baobabs are estimated to store up to eight times the water capacity of these tanks - perhaps this will inspire the engineers to come up with a cost effective storage solution to match nature. Currently three-quarters of the school roofs were still draining directly onto the ground!