Don't you get worried when you are given a leaving present as you are about to board the plane, and your suitcase is already stuffed to the gills with souvenirs? So when a friend gave me a beautiful painting at my leaving do last week, I was both delighted and bemused. How was I going to get it home? It could have been an anxious diplomatic moment, but in the end we called back the packers, and they prized open one of my boxes and slipped it inside.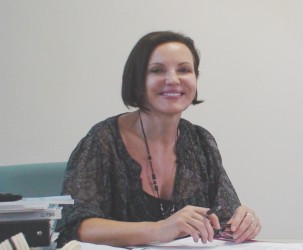 This will be my last blog post from Rwanda. My appointment in Kigali was just for six months, so now I'm going back to Britain to lead our Africa Conflict and Humanitarian Unit, and I plan to continue to blog based out of London. The great news is that Elizabeth Carriere has arrived as the new Head of DFID Rwanda and Burundi.  She has been promising to everyone that she will definitely stay three years in Kigali, so there will be good continuity of leadership. Elizabeth comes direct from heading up DFID's work in the Caribbean, and has lots of experience in Asian countries.
And Elizabeth had some great news about Rwanda to trumpet in her first week. The country has made an extraordinary leap in the World Bank's 'Doing Business' ranking, rising 76 places from 143rd position to 67th this year. That's the biggest jump in the ranking that has ever been achieved by any country in a single year, and makes Rwanda the top global performer among 183 countries. DFID can claim a part in this success, having supported business environment reforms for the past two years. There are loads of opportunities for Elizabeth and the DFID team to make a real difference in Rwanda.
Just before leaving I thought I would check out who has been reading this blog. So I asked Simon, my techno-wiz friend at DFID, to get out the clicker; he worked out that the posts have been viewed about 4500 times, with people viewing from over 60 different countries. Has it been worth it? Well, it is hardly in the Stephen Fry Twitter league, but it has been good to get all sorts of responses ranging from Rwandan nationals concerned about youth issues, to a Genocide researcher from LSE in the UK wanting to discuss his research findings, to an official from the British TUC interested in the new labour laws.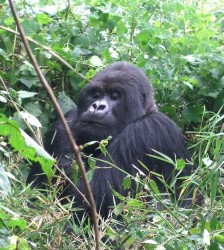 It's been a great place to live. My family came out for a few weeks' holiday, and we got to see Rwanda's one totally unique tourist sight – the oldest Silverback in the Volcanoes National Park, called Guhonda. He is one of only 786 mountain gorillas left in the world. He has been generating tourist revenues for the country for over 29 years, even during Dian Fossey's time. I thought I'd sign off my time in Rwanda with his photo.