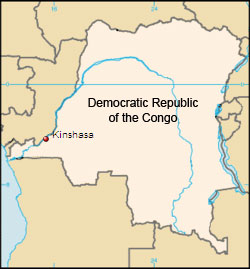 That was the reaction I got from friends and family from my generation when I told people I was going to work in Kinshasa for two months with DFID DRC. People from older generations asked me, 'Is that the country that used to be Zaire?' Needless to say, no one in my circle of friends and family (including myself) had much knowledge about Kinshasa and the Democratic Republic of Congo. So now, besides the challenge of living in a foreign country for two months and working in a different office I had the additional challenge of learning all I could about the DRC.
I am a Sudanese working with DFID Sudan as a programme officer. My work involves management of projects in the Security, Governance and Development team and helping to deliver on DFID Sudan's commitment to support implementation of the Comprehensive Peace Agreement that ended the longest-running civil war in Africa.
My temporary post in DRC will entail the same work I do in Sudan, but in the Natural Resource Governance and Growth team in DFID DRC. When I first heard it, the team name sounded exciting to me: Natural Resources Governance & Growth. How thrilling to be working on a sector that is very new to me and to be a part of delivering DFID DRC's commitments in this area.  I was already sure that DFID DRC was going to give me more than I would ever take from it in terms of knowledge and experience.
Part of the discovery of how little I knew about the DRC, this country I had committed to staying in for two months, was the realisation that I would not be able to survive without even the most basic French which, like my knowledge of DRC, was almost non-existent. So a crash-course in French in my last six weeks in Khartoum was my next challenge. I really didn't grasp how important learning French would be to me until my first morning in the DFID office in DRC. The all staff meeting was at nine am and I sat down all happy and excited about my new job. Then I realised that the meeting would be conducted in French and I said to myself, 'Oh oh, girl you'd better get your act together and learn more of this language while you're here!' Needless to say this is still a work in progress, bonne chance to me!