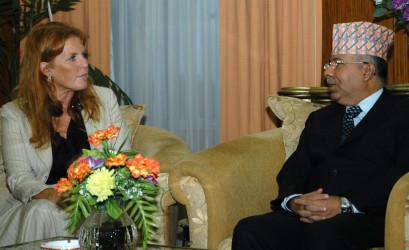 The Duchess of York, Sarah Ferguson, was here last weekend to see the work that Nepal is doing on health care provision for mothers and babies. The Duchess, who – for those that don't know, used to be married to the Queen's son, Prince Andrew – was here primarily with the White Ribbon Alliance which promotes safe motherhood, but I am pleased to say that she also had the opportunity to find out about what we, DFID, are doing here.
The Duchess met the Prime Minister of Nepal, (also called Madhav Kumar Nepal – see the photo) and congratulated him on the progress that has been made in making childbirth safer in Nepal and improving the chances of babies surviving to their fifth birthdays.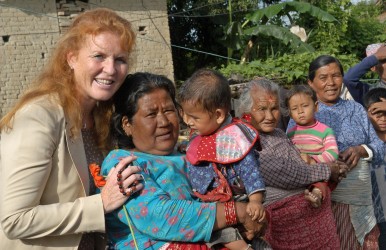 And indeed, despite all the challenges in this country, there has been really good progress on this issue and the numbers of women dying in childbirth has fallen by nearly half.  But still, every four hours in Nepal a woman dies due to pregnancy and/or childbirth complications, and 6 in 100 children will not see their fifth birthdays. Still too many by far. In the UK it is just under 1 maternal deaths per week and 6 deaths of under five children per 1000 live births.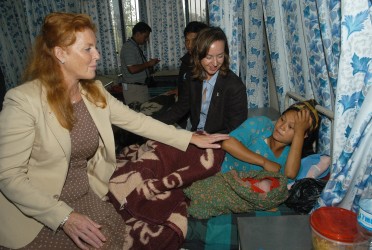 The Duchess visited a maternity hospital in Kathmandu. Here you can see us both talking to Laxmi who had given birth 4 hours earlier. No wonder she looks exhausted! Laxmi and all the other women in the hospital had received excellent care. Most women in Nepal are not so lucky.
Just this week the papers have been full of reports of how the Prime Minister himself saved a woman who would otherwise have died in childbirth.  Kamala, it is reported, was bleeding profusely during her labour and her chances of survival were slim. The PM somehow got to hear of Kamala's situation and diverted his helicopter from an official visit to her small town in remote Rukum district. The PM's action meant that Kamala was quickly brought to Kathmandu, and actually to the same maternity hospital where Laxmi had received her care.  I'm pleased to say that reports are that Kamala is doing well, though her baby, sadly, was stillborn.
Before this story hit the headlines, the Duchess's visit helped to highlight that maternal health is a huge issue here in Nepal and that lots more needs to be done. The Duchess vowed to carry this message to the UN General Assembly in New York in September and to keep up the pressure on donors like the UK to continue the work we are doing.
Few women will be as lucky as Kamala and be rescued by a passing helicopter, so we need to ensure that good quality medical care is near their homes, where they need it.  DFID has provided £71.5 million to health care in Nepal over the past 6 years, of which £23 million is specifically directed towards maternal health. We plan and hope to do even more so that for women like Laxmi and Kamala good care for them and their babies is not a game of chance.