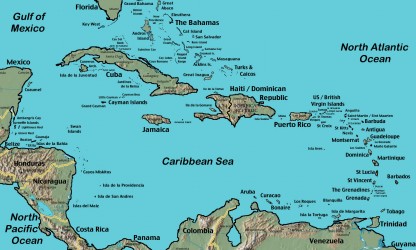 I work as the climate change adviser for the DFID Caribbean office. I am based in our regional office in Barbados as part of our Tackling risks to growth team. I have been working in the Caribbean for over eight years on issues like water resource management and now disaster risk reduction and climate change. I used to work in southern Africa, so my life journey means I have moved from a very water scarce region to places that have a rainy season for several months of the year!
Although I see beautiful blue aquamarine water and sandy beaches on my way to work – ahh the tough life you would say – the reality is that the islands here are facing extremely difficult challenges and decisions about coastal planning and future water supply when they look at the predicted impacts of increasing sea level rise, and what it means if it gets even hotter or we frequently lose crops because they are wiped out regularly by heavy wind or bad storms.
While reading a press article this week to mark International day for Disaster Risk Reduction, the Executive Director of the Caribbean Disaster Emergency Management Agency, Jeremy Collymore, pointed out that our region was the second most prone to hazards in the world. This reminded me of the staggering stats about losses suffered by the region since I have lived here. In 2004 damage in Grenada by Hurricane Ivan was estimated at 212% GDP. In 2005 Guyana lost 60% of GDP due to floods. And just last year four tropical storms one after the other in Haiti caused damages and losses of around 15% GDP. This kind of economic setback takes a really long time to recover from and climate change predictions say the situation will be made even worse. Talk about salt in a wound.
So then you understand the region's tough stance at the international negotiations - given that they are already struggling to cope with present day climate and what the predictions look like, they want no more than a 1.5 degree rise in global temperature – this is an issue of survival for all small island states and low lying coastal areas around the globe - where relocation for some is already an unavoidable future reality.
I get excited by my work in the region because there are some excellent home grown policy platforms to build on. It was really encouraging to see all heads of state endorse the Regional Framework for Achieving Development Resilient to Climate Change (PDF) in June this year and the 2007-2012 Comprehensive Disaster Management Strategy (PDF) that is much more results based. There are adaptation pilot projects now underway, global funds coming in to help scale up adaptation efforts and already quite a lot of progress has been made around the planning and capacity building stages for adaptation through work of the Caribbean Community Climate Change Centre. We now need a clear vision of what success will look like and accelerated action, but I do not underestimate the challenges like for example working effectively across over 20 states and the fact that we are now being hit very hard by the recession.
Some of the topics that I am curious about that come to mind to blog about are
the excellent and widespread use of solar in Barbados homes - but I want to know why  it hasn't caught on in rest of region?
the only Clean Development Mechanism project in the region – a wind farm in Jamaica. And the bottlenecks around this finance source
the ambition to become a carbon neutral regional destination by 2015 (before Maldives who say they will achieve that by 2019)
the latest on geothermal potential, energy efficiency improvements  and low carbon development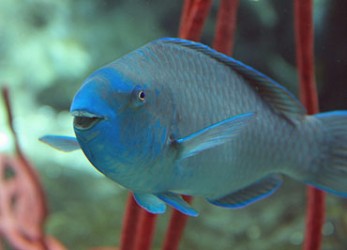 or my recent discovery of how brilliant the parrotfish are (see the picture). They say they are like a toothbrush for dental health - the magic ingredient to helping coral recover after being damaged, which is really important when the Caribbean has the largest proportion of corals in high extinction risk categories.
Wow, I was really nervous as this is my first ever blog post, but now it has me going…
This blog features as part of Blog Action Day and the Act on Copenhagen campaign