Crossing the street the other morning to get through the front door of DFID's London Headquarters, I was suddenly confronted with a new bunch of faces. Normally I do my hour and a half commute just concentrating on getting some work done or enjoying music on my iPod, but on this day eight Greenpeace activists in white T-shirts were handing out leaflets on climate change. It made me think immediately of the humanitarian crisis in East Africa, where I've focused my attention since getting back to my job as Head of the Africa Conflict and Humanitarian Unit, after my six months in Rwanda.
The situation is bad. Over twenty million people in Ethiopia, Kenya and Somalia in need of humanitarian assistance, much of it food aid, over the next few months. And it could get even worse early next year, depending on how the current harvest pans out. That's why Douglas Alexander, the Secretary of State for International Development, last week announced last week a further £39 million of humanitarian support for countries in the Horn.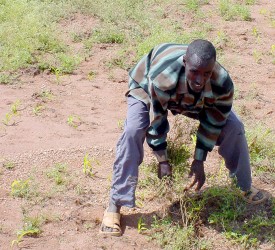 This time last year I visited the Somali region of Ethiopia when it was already getting bad for the farmers. I met Mohammed from near Jigiga who knelt down in his field and showed me the state of his crops. This was meant to be a sorghum field, but it was just dust; the only thing growing was a toxic weed, dangerous for both humans and cattle. His first sorghum sowing had withered away when the rains had failed. Looking over his bare fields, he was expecting a gloomy harvest for himself and fellow villagers. The rains have been worse in 2009 over much of the region, and in Somalia the ongoing conflict has displaced millions.
What's the reason for the food shortages; why are things so bad again for so many people? There are, of course, a host of reasons alongside the poor rains. Reaching those people most in need in the conflict areas is tough and dangerous; food prices, particularly in Kenya, have stayed high; governments and agencies have not been quick enough to act.  But one of the underlying causes for these problems is undoubtedly climate change.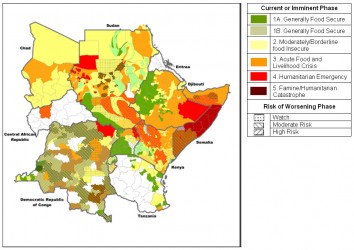 Climate change prediction models are not yet accurate enough to say what will happen where with any great clarity, but we do expect the dry areas of East Africa to get drier. With this will come food and water shortages, population shifts and economic losses. Perhaps this is what we are already seeing. The security implications of these changes are complex and not well understood, because different societies cope differently with changes, but we do know that even if climate change may not be a direct cause of conflict, it does create conditions that make it more likely and more severe. The Stern Review emphasised that environmental degradation will lead to competition for natural resources, scarcity, migration and potentially destabilisation and conflict.
1816 was the year without summer. Mount Tambora on the Indonesian island of Sumbawa, blew its top and threw a massive amount of volcanic dust into the atmosphere in one the largest volcanic explosions of modern times. In his article 'A brief history of climate change and conflict' James Lee explains that 'the volcanic dust travelled worldwide, blocking the sun's rays and lowering temperatures.  The period of extreme cold, coupled with the eruption, produced a 'year without summer''. The season's crops were lost and the cold forced people in Europe to migrate. But as the land across the continent was relatively densely settled, conflict came with the population movement. The result was social upheaval, riots and disease.
Back to Mohammed and the Greenpeace leafleters. The insecurity in much of the Horn of Africa and the stress that many people are suffering may not be a direct result of climate change, but the connections are too strong to ignore. The message in the Greenpeace leaflets about getting real results at the Copenhagen Climate Change Conference will be vital for Mohammed and his fellow farmers.
This blog features as part of Blog Action Day and the Act on Copenhagen campaign