My colleagues and I went to Mbuji Mayi (capital of Kasai-Oriental Province) for three days to attend the opening ceremony for the first water network out of eleven that will be constructed in Mbuji Mayi using DFID funds. The day started early and we were at the airport by 6am. After a short plane trip and an even shorter helicopter ride (my first ever!) we finally reached Mbuji Mayi. After a huge chicken lunch at the hotel (the Congolese really love their meat) and a brief meeting with the Governor of Kasai-Oriental we drove to the outskirts of Mbuji Mayi to see one of the water networks in action. This was the first time I had actually seen how water boreholes are drilled.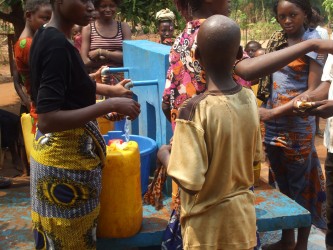 Then we went round visiting the various water sources that had been constructed and talking to people there about the impact of these water networks on their quality of life. Mbuji Mayi is a city with a population of approximately three million people, but only 300,000 have access to safe drinking water. DFID is funding the construction of 11 water networks in Mbuji Mayi that will give another 300,000 people access to safe water. One woman told us how much better it is for people now that they don't have to walk for hours to the river to get water and they can drink clean water that won't make them and their children sick.
After our long tour of the field we went back to our hotels for a much-needed shower before meeting colleagues for dinner. Dinner was at a new hotel in Mbuji Mayi that we were all trying for the first time. When we got there, there was a power cut, and it seemed like the hotel generator wasn't working very well because we had very little lighting at the restaurant (a few small emergency lights and a candle) and had to squint our way through the menus to find something to order. We were left to wait more than two hours for our food to arrive by which point we wouldn't have minded eating grass as long as we could eat and go back to our hotels to sleep – we'd been up since 4 am!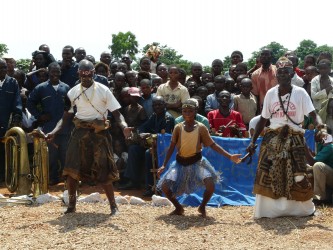 The next morning was the opening ceremony for the first water network. The ceremony was scheduled to start at 10am after the arrival of the Governor and other senior people. Unfortunately the VIPs didn't get there until noon so the ceremony started quite late. But we were entertained with fabulous music and dancing so we didn't really mind the delay.
After the ceremony was over we rushed to the field again this time to talk to people who were isolated from the city because of poor roads and the impact this has had on their lives. One woman told us how her sick brother had died because they were not able to get him to the hospital in time to be treated. Unfortunately, by that time she had already sold most of her clothes and some plates to pay the 5,000 Congolese francs (appx. $7) to rent a bicycle that could take him to the hospital. DFID has funded the rehabilitation of about 800 km of rural roads and network links in the agricultural areas of Kabinda and Kasai-Oriental that will help people like this woman have better access to services.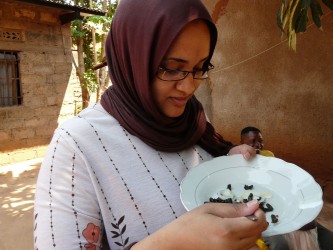 The next morning, before going to the airport and back to Kinshasa, we went over to the house of Diane's uncle (my friend and colleague) to eat some caterpillars. The caterpillars were seasoned with garlic, onions and lots of spices and stir fried. Considering that they were caterpillars, they actually weren't bad. I even managed to finish my plate! But to be honest, I couldn't shake the queasy feeling all day of knowing that there were dead caterpillars in my stomach (my poor tummy!). But I'm glad to say my stomach survived it with no drama. So, although I doubt I'll ever go to a restaurant and order caterpillars, I can still pat myself on the back for having the guts to eat them, and even like them!
The last act in the drama that was our trip to Mbuji Mayi occurred two minutes away from Mbuji Mayi airport – and right in front of the hotel we had had our disastrous dinner in the first night (coincidence?). The driver was stopped by the traffic police asking to see the insurance and registration papers for the car. Unfortunately the papers weren't physically in the car and someone from the office had to come down to bring the papers. By this time we were due to check-in in 10 minutes. We had no choice but to get out of the car, take our luggage and walk (run) the short distance to the airport. Diane had a suitcase and a huge cooler filled with food she was taking with her from Mbuji Mayi (caterpillars, mushrooms, dried fish and other delicacies). She was lucky to find a UN car on the way and hitched a ride with them to the airport. We must have been quite a sight, four people with luggage of various shapes and sizes running down the road to the airport. What got me most was the casual 'au revoir' the policeman shouted to us as he watched us drag our bags out of the car and run like crazy people to the airport.