In my first blog I wrote about climate change and development in rather general terms, and about some of the thinkers who have influenced my understanding of the issue. The comments posted by readers have been impressively detailed and wide-ranging - touching on agricultural yields, national security, population control, construction techniques, the timber industry and Westerners' toilet habits! I've done my best to respond to the various questions raised, but must admit some of them have tested my knowledge. I plan to return to some of these topics at greater length in future posts.
As it happens, the other week Lord Stern – one of the protagonists of my first blog – was in Delhi, where he is well known in academic and policy circles as a longtime friend of India. On the Monday evening he delivered a public lecture to an audience of several hundred people, on the need for a global deal on climate change that is both ambitious enough to minimise the risks of catastrophic climate change, and that takes account of the deep inequity in emissions, both historically and (on a per capita basis) currently, between rich and developing countries.
I won't go into detail about the content of Lord Stern's lecture – his presentation is available here. But I wanted to highlight two points made by India's Environment Minister, Jairam Ramesh, in his remarks following the lecture.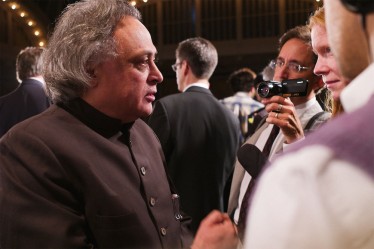 The first was that in his view, India is more vulnerable to climate change than any other country – "forget the Maldives and Bangladesh", he said, "we are in the frontline". He cited several reasons for this: the dependence of Indian agriculture on the vagaries of the monsoon; the crucial role played by threatened Himalayan glaciers in regulating water supply for hundreds of millions of Indians; the vulnerability of major population centres to sea level rise; and the fact that almost all of India's considerable mineral wealth lies buried beneath forests – how to get at these without contributing to further climate change?
The story however is not simply one of vulnerability and costs – the Minister's other really noteworthy point was that climate change also offers huge opportunities for India to become a leader in developing and supplying cleaner technologies to the rest of the world, bringing wider benefits in terms of economic prosperity and jobs. The potential scale of these opportunities is highlighted in a recent report from the UN Environment Programme which found that new investment in clean energy reached $155 billion worldwide in 2008, of which developing countries accounted for about $37bn – 27% up on 2007. If India has managed to become a world leader in information technology, why not low carbon technology?
I found the juxtaposition of these two points – vulnerability on the one hand, opportunity on the other – particularly interesting, and relevant. As I've heard it put by more than one person, if Martin Luther King had said "I have a nightmare", it's unlikely his words would have had quite the same effect!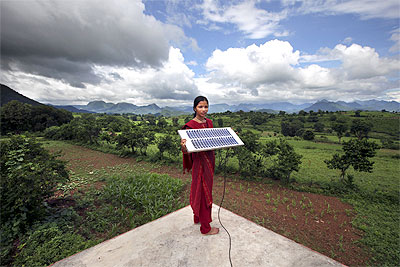 At DFID we are particularly interested in policies and investments that promote long-term economic growth and poverty reduction whilst simultaneously reducing greenhouse gas emissions. It seems to me that technology is an issue which offers great potential for meeting these twin objectives; the roles of technology in addressing climate change, and of technological change in driving long term economic growth, have been long recognised.
The question is, what needs to be done to take advantage of the opportunities that Minister Ramesh talked about? Fundamentally it comes down to incentives and capacity, but the measures needed to create these will be many and varied. Many will require policy and cooperation at the international level, which is why technology is seen as a key pillar of any global climate deal. The role of supportive trade policies in the development and transfer of clean technology will also be important – when talking to the head of the UK government's Trade Policy Unit last week I was struck by the extent to which she saw the WTO negotiations in terms of the knowledge economy, technology and innovation.
Domestically too, there is much that countries can do to position themselves to reap these opportunities. Conducive policies will be needed to support quality basic research, to enable new ideas to be commercialised as efficiently as possible on a large scale, and to improve the business environment more generally. That's why DFID is working with InfoDev, a programme housed within the World Bank, to find ways of helping to stimulate innovation in clean technology in India. The conclusions of a recent conference bringing together technology innovators, entrepreneurs, financiers and policymakers to brainstorm ideas on how best to do this can be found in our news room.
Other parts of the UK government are also active on this issue - for example, the UK Research Councils have recently launched a joint research initiative with the Indian Department of Science and Technology on solar energy.
As Minister Ramesh suggested, it's an issue that really resonates with the Indian government, which has proposed setting up a network of innovation centres for clean technology, and recently hosted a major international conference on global cooperation for climate technology.
Technology innovation however is only a part of the story. There's huge potential for already available technologies, in renewable energy for example, to be deployed on a much larger scale in ways that bring direct benefits to poor people. DFID programmes in India are also helping to demonstrate how this can be done – but I'll leave that story for another time.