I work in a Provincial Reconstruction Team in Helmand province, Afghanistan – part of the international mission to support the Government of Afghanistan and help Afghans govern their country for themselves. My job title is Economic Adviser. I work with the local government to support economic development in Helmand and help give people the chance to earn a decent living - so they aren't forced to join the Taliban's ranks out of desperation.
We're a multinational team, made up of staff from the UK, Afghanistan, Estonia, Denmark and the US, and working closely with the UK and US military, known as Taskforce Helmand and Taskforce Leatherneck respectively. I'm the new kid. I flew in from Kabul last week – so I'm still getting used to the way things work and learning all the military terminology. (To me, M&E means monitoring and evaluation. To the military it means mines and explosives. It's important to be clear exactly what we're talking about).
Life here is very different from the picture of Afghanistan you see on the news. I'm based in the town of Lashkar Gah, Helmand's provincial capital, which sits on the Helmand River 200 miles from the southern border with Pakistan. The Helmand River valley is actually one of the most green and fertile regions in Afghanistan. But security remains very difficult, and British soldiers are laying down their lives in the fight against the insurgency. Yesterday I attended a memorial service for two soldiers from this base who were killed by an IED (Improvised Explosive Device). It brought home the stark reality of the situation here.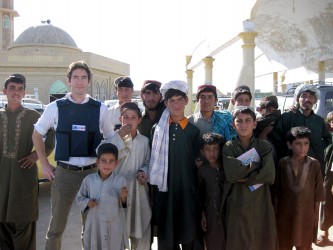 The aim of the Provincial Reconstruction Team is to help the Government of Afghanistan improve security, create jobs and deliver services to the Afghan people. It's a crucial part of the international mission here. I've already seen some of the successful projects we've delivered. In the photo I'm standing next to a bus station which we helped to build. We're providing small-scale loans so local farmers can buy land and equipment. And as a result of a US funded project, people in Lashkar Gah recently started receiving a reliable supply of electricity for the first time, generated using hydro-power from the Helmand River. Businesses can now operate more easily. Families can switch on a light and listen to the radio. Winter is approaching in Helmand and one of the Afghan staff in my team who lives in Lashkar Gah told me that he can now use an electric heater for the first time.
This is just the beginning of the story. Over the coming months I'll try to explain what it's like working here and what my team is trying to achieve in Helmand.