If in March the weather was 'unsettled', in April it was most certainly stormy - both politically and climatically.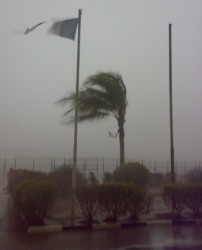 I'm writing this post at dusk in the Kano airport 'waiting room' (lounge would be too grand a word), as this season's first serious storm blows. Outside a Lawrence of Arabia style sand storm has morphed into monsoon rain and my plane has returned to Abuja, unable to land. "Will it come back?" – "Wait and see!" smile the airline staff. So I've plenty of time to update on recent goings on.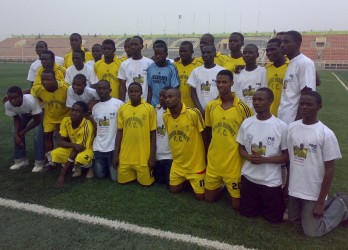 The other weekend I was at the Sani Abacha Stadium in Kano again, for the first time since the Under 17 World Cup game I attended last October. This time it's a low key event: Kano United versus Kurmi Market - that's like Scunthorpe United against a non league team in the UK. The game was put on by the Nigerian Civil Society Action Coalition for Education for All, as part of the international FIFA backed 1-GOAL campaign. Sophie Tanner, a VSO volunteer based in Kano, had heroically battled against the odds to hire the stadium and arrange the teams and match officials.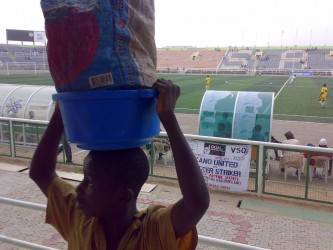 A huge spectacular/world leader summit is planned for the World Cup this summer in South Africa to push for action to help Africa's out of school kids, but the Kano stadium on a muggy afternoon proved a little less glamourous. Still, several hundred young men and teenagers watched a spirited game and younger hawkers circulated selling snacks and bags of 'pure water'.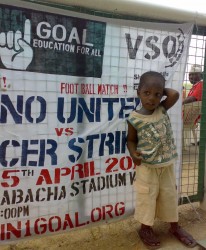 We needed to 'on' the generator for 'light' to use the loud speaker system. Just as the match got lively in the 2nd half with a hotly disputed off-side appeal against the first goal, the speakers crackled into life and the 1-GOAL message was delivered in Hausa – the lingua franca. Around a quarter of the estimated 30 million African kids out of school are Nigerian, many living in the North around Kano.
It's a tragedy -  what can be done to accelerate progress and enable all children to attend primary school by 2015? The new education minister Professor Rukayatu Rufai comes with a strong track record from her recent work improving Jigawa State's school system so we wait in anticipation to see what ideas she puts forward.
Meanwhile after 3 hours in the airport we're told the plane didn't in fact refuel and come back, but has been cancelled for 'operational' reasons. The Nigerian passengers grumble a bit, but most are used to the uncertainties of local air travel and no one kicks up a fuss. At least we didn't spend an hour in the air during a storm, as my colleague Alicia from Abuja did, trying to get to Kano on the same plane. As the multiple Nigerian air crashes graphically show, flying in the storm season is a particularly risky business…