The greatest challenge in my job is when I hear colleagues from developing countries ask how they're supposed to tackle climate change when they have a hundred other development issues to think about.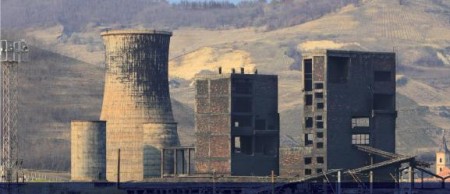 As I've written before, my answer is always that tackling climate change and reducing poverty go hand in hand.  They're not mutually exclusive, and a low carbon future doesn't mean a future without growing welfare.  In fact, climate change and development must be addressed together.
That's why today DFID and Forum for the Future are launching The future climate for development: Scenarios for low-income countries in a climate-changing world.
This project analyses factors that could influence the way low income countries develop and respond to climate change over the next 20 years.  It has developed four scenarios – plausible and robust possible futures – exploring different ways in which these factors may play out.
Here's how they look:
"Reversal of Fortunes" is a world where many of the low income countries of the 2010s have rapidly developed – mostly on carbon-intensive pathways – but are then hit first and worst by the impacts of a rapidly decarbonising global economy as developed countries belatedly wake up to the climate challenge.  Countries that develop their renewable resources and low carbon supply chains are most resilient in this future.
Video: Low-Income countries in 2030 - Reversal of Fortunes from Forum for the Future.
"Age of Opportunity" is a world in which low income countries play a growing role in the world economy and are spearheading a low carbon energy revolution, leapfrogging the old high carbon technologies in pursuit of a prosperous and clean future.  Early movers into renewable energy located near established markets do the best.
"Coping Alone" is a world in which low income countries feel increasingly abandoned by a global community preoccupied with high oil prices, economic stagnation and simmering conflict.  Oil exporters reap the most gains in this future, with oil importers doing the worst. 
"Greater Good" is a world where countries manage natural resources pragmatically to give the greatest good for the greatest number.  Low income countries with abundant natural resources and strong bargaining skills tend to do well in this future. 
The next stage of the project is for these scenarios to be used as a practical tool for anyone who has a stake in the future of low income countries, including low income country governments, non-governmental organisations (NGOs), businesses and development organisations.  The scenarios can be used to 'future-proof' development strategies, generate new ideas for future strategy or policy, and create a vision of a preferred future.
In DFID, we're planning to use the project to help ensure that all UK aid is 'climate-smart' and that we integrate climate change into our development efforts across the organisation. 
Check out the feature on the DFID website to see  the other animations, and visit the Forum for the Future website to see the full report and posters of the scenarios as well as details of how you can use this tool in whatever your own area of work is.