The rainy season is now in full swing and Northern Nigeria is rapidly greening once more, with crops of maize and millet growing fast. I've survived my last domestic flight through a brewing storm, with turbulence so bad it dumped most passengers' drinks into their laps! The dusty road verges are grassing over, back to the situation that greeted me when I arrived in Kano three years ago.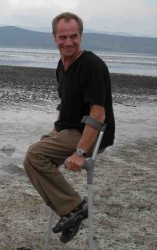 The time seems to have passed rapidly, one becomes absorbed in a country as interesting and vibrant as Nigeria - trying to understand its people and politics, attempting to conceive strategies to cope with the enormous challenges its people face. I sit with time to reflect in an empty house. My family has already left and my boxes (and half my brain it seems at times) are already in transit to Zimbabwe, for a new assignment working with the European Commission. Nigeria is also in a reflective mood, following its early departure from the World Cup and the nation's upcoming 50th birthday: Naija @ 50 on 1 October.
At times it seems that Nigeria is just treading water. Slow onset chronic food shortages have returned to haunt the border areas with Niger and there are many destitute people in Kano seeking support. Last week I attended a training session for a rapid nutrition survey; it aims to assess the rate of chronic malnourishment in the under fives. DFID is already supporting large emergency feeding programmes in Niger and is planning new interventions in Northern Nigeria to try to impact upon the disturbingly high rates of wasting and stunting of children that are routinely observed. 
Ineffective government systems have been unable to translate the large oil-derived financial reserves into adequate food supplies. Poor nutrition in early childhood impacts on both the physical and cognitive development of children and greatly limits their future potential. The athletic cartoon African boy that battles robots in the popular World Cup advert must have eaten at least one nutritious meal a day.
The election season is also coming and since the death of President Yar' Adua earlier this year there is a great deal of uncertainty over who will emerge from the early 2011 elections. I think that DFID and other development partners contribute in valuable ways to Nigeria, providing examples of what can be achieved through reforms and new initiatives if backed by political will. 
Lagos's renaissance from an urban mega-slum to a mega-city is underway and there's a fragile peace agreement in the Delta. Large scale bed-net distributions are making inroads against malaria and mass vaccinations campaigns are close to eradicating polio. For the first time in three years, last week I heard a railway engine moving close to my office. A new locomotive is shuttling passengers and goods between Kano and its industrial quarter - other sections of the 1,000 km Lagos to Kano line are also becoming operational once more.
In my area (education) there has been considerable progress. Just last week I calculated that for Kano's neighbour Katsina State, where the DFID / UNICEF Girls Education Project works, the junior secondary school enrolment rates have increased by 50% in two years - an extra 50,000 following the completion of many new schools. Other initiatives from the Girls Education Project were presented recently at the E4: Engendering Education, Equity and Empowerment conference of the UN Girls Education Initiative in Senegal. 
The rural female trainee teacher's scholarship has proved particularly popular as a way to both empower rural women and improve the quality of child friendly education being offered. From a small start nearly 2,000 women are now enrolled, many financed by a government which has seen the merits of the scheme and has become willing to participate with its own funds. One of the trainees, Grace, was able to attend the E4 conference and together with her baby gave a powerful testimony of the scheme's benefits.
I leave Nigeria with mixed emotions of both regret and hope, not least for a number of initiatives and schemes that are yet to bear fruit. I only have one more drive down the dangerous express-way to Abuju to survive and have suffered only a single bout of malaria. So far I haven't fallen prey to any of the notorious '419' fraud scams – however I still need to try to sell my car.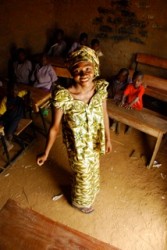 Let me close with some of Grace's testimony, I think she can more eloquently express the hope and opportunities for change that exist within Nigeria.
My name is Grace from Niger state, Danguni Ward under Munya Local Government. I didn't go to college because of lack of money, and because here if you finish secondary school people think that is the furthest you can go in education. People in our village always want the woman to stay at home. Some girls even when they are just 14 or 15 years old are sent to be married.
In my village, I'm the first person to get an opportunity to study at a higher institution. My husband gave me full support, he said I should go. It has not been easy with my baby Miriam, but I have to just do it. You know opportunity comes but once, you just have to use that opportunity with two hands.
I'm going to help when I get home because I know some homes and I know some people who don't like their children to go to school, I will go to that house, I will enlighten the parents, I will fight for the rights of those girls.
We are in democracy, you are free, school is your passport!