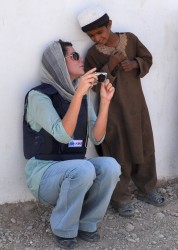 In the UK we hear about Afghanistan almost every day. But most people have never met anyone who has actually been there, and from what you see in the media you'd be surprised that anyone would actually want to work in Afghanistan through choice.
The civilians working here have all volunteered for the job. There are over 200 UK civilians working in Afghanistan and I am one of them.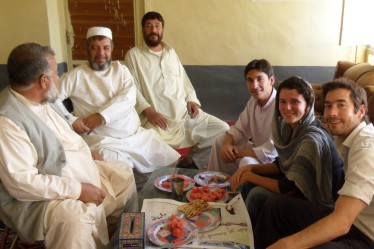 Almost 18 months ago I joined the DFID office in Afghanistan.  As the Deputy Programme Manager for Growth and Livelihoods I am responsible for managing growth programmes in Helmand. At DFID we use the term growth everyday, but to most people it doesn't mean a lot. The Head of DFID's Growth team, Paul Healey, describes growth as supporting poor countries to have stronger economies. And in Helmand I get to contribute to that first hand.
I am based in the British Embassy in Kabul but I also travel to Helmand frequently and get to meet some of the people who benefit from the work we are doing. That's probably the best part of my job. It's often hard to explain to people at home how things are improving out here – but when you get to see that personally it can be really rewarding.
Sometimes people are surprised that we are allowed out in Helmand, movements are limited but we are looked after by our security team and it's really not always as bad as people think.
When I first came to Afghanistan I thought I knew quite a bit about what the conflict was about. Looking back I realise that to really understand this country, you have to experience life here for yourself. The issues are really complex.
The UK media tends to be focused on the military effort. Working in Helmand has allowed me to experience what the military are good at first hand, and I have nothing but admiration for all the soldiers who serve out here. But there are also hundreds of civilians who leave families in the UK to work on development or political issues and I want to give their side of the story.
DFID has a big team in Afghanistan and as our budget increases we'll keep growing. At the moment there are over 50 DFID staff in Afghanistan, half of whom are employed locally, with a huge range of experience and personalities. I sit next to a Dutch agriculturalist, who can tell you everything you need to know about how crops grow and a markets adviser from Scotland, who is probably one of the happiest people I have met.
A lot of my friends at home think I must be crazy to work in a place like this, at times I think that myself. You have good days, where you feel like progress is going well, and other days when it feels like you are trying to climb a mountain. But we have signed up, as a team, to be here everyday so somehow we have to deal with both. I hope to give you a sense of what both are like.
I'll be putting up another blog really soon to talk about my experience of monitoring the recent elections, so watch this space.