A really interesting part of my trip to Manica last week was a visit to Sussundenga Health Centre, which is situated about 42 km from Chimoio down a red, dry baked earth, dirt road. The conditions of the road were good - it was a hot dry day and the temperature was about 36 degrees. However, in rainy conditions the road soon becomes full of pot holes and creates a mud bath, considerably increasing the journey time.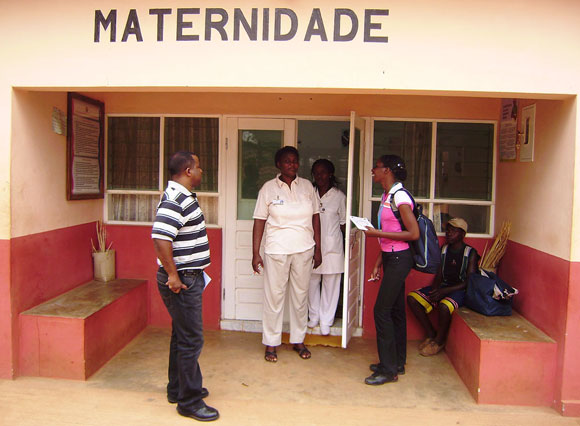 The visit was interesting as it helped to highlight some of the barriers that Mozambican women face in trying to give birth in a health facility, with a skilled attendant present at the birth. The picture on the right shows Anna Lorenza Mehia, the Director of Sussendenga Health Centre, coming out of the Maternity Unit - as well as Sylvia and Celso, who I have introduced in my first post on Manica.
The health centre can assist normal deliveries and intervene if needed for some forms of obstructed labour using vacuum (Ventouse) forceps. However, if a caesarean section is needed, then patients must be transferred 42km to Chimoio, which can be a problem. Sussundenga has three vehicles but at the time of our visit only two were on the road. And on any given day it may be that both of these are at other points in the district collecting patients or delivering medicines and equipment to other smaller health units.
Geography and travel distances are one of the greatest barriers to an institutional delivery in Mozambique. Whilst the average distance people have to travel to reach a health facility in Manica province is 14 km, some people have to travel much greater distances. Some of those using Sussundenga Health Centre travel up to 102 km, which is way beyond the national standard of 8km that Mozambique is working towards (specified in directive 127/2002). Such long distances would be a challenge for anyone given the road and footpath conditions. Add to that the absence of public transport, low levels of private vehicle ownership and limited access to an ambulance compound, then the challenge becomes a life threatening one for a woman in labour.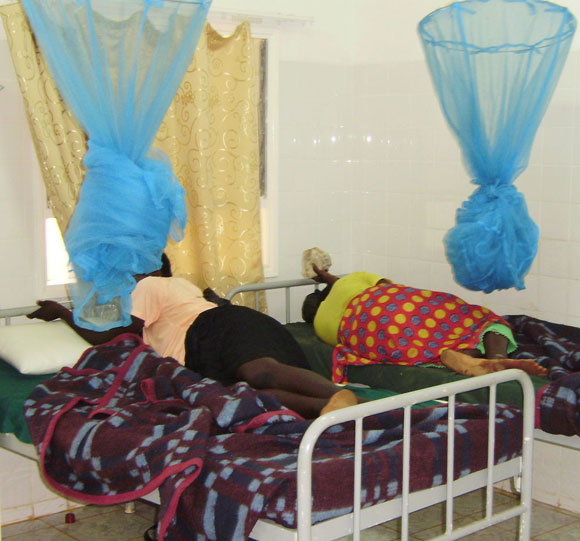 The antenatal nurse at Munhinga Health Centre (about a 45 minute drive from Sussundenga Health Centre) sees antenatal women when they arrive, gives them a bed net on their first visit and encourages them to return and give birth with skilled supervision at the health centre. Treatment, management protocols and statistics on the health centres activities line notice boards in the centre, which are all part of efforts to improve the quality of care provided.
In order to guarantee being at the health centre in time for their delivery (given the distances) some women choose to come before their labour has started and wait. The health centre provides two rooms, which are meant to sleep up to four people in each, but at the time of the visit 18 women were waiting in these rooms, and some had been there for two weeks. Whilst the health centre provides some food for these waiting mothers, women often have to be away from their families for a long time. For a poor family with little cash resources, this can mean depending on the limited rations that the facility can offer.
In this picture to the left, two women had successfully delivered their babies, and were waiting to go home. All the health centre beds had bed nets for night time use.
In spite of the challenges, Manica province as a whole does better than the national average in terms of institutional deliveries. The percentage of women giving birth in an institution in Mozambique, both in 2008 and 2009 was 55%. However in Manica 64.9% of women had an institutional delivery. Numbers of institutional deliveries in the province increased from 40,628 in 2008 to 43,341 in 2009.
Manica also has a very high level of at least one antenatal visit, although the number having two or more visits falls rapidly. There were 86,683 new antenatal visits in 2009, compared to 79,176 in 2008, a 9.4% increase. An illustration of the tail-off in antenatal attendance is given by the statistics for presumptive treatment of malaria in pregnancy, where three doses of Fansidar are meant to be given during pregnancy (you can find out more about Fansidar here).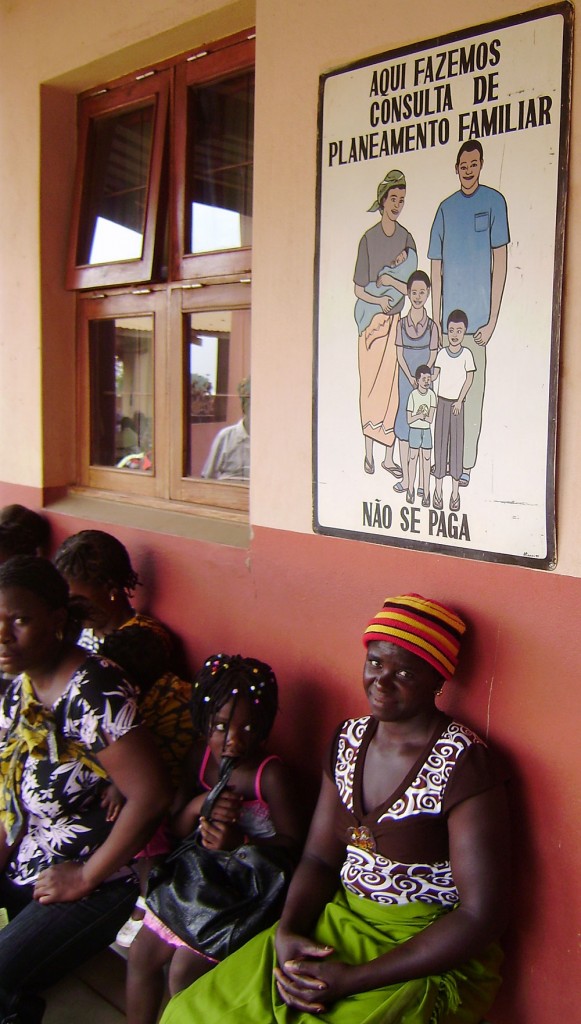 Whilst 73% of all women registered for antenatal care received a first dose of Fansidar, only 52% received a second dose and just 31.7% a third dose. In 2010, this performance will be further compromised by a stock-out of Fansidar at the national level, which has affected the whole of Mozambique since June 2010.
Another major challenge that remains is to increase access to modern methods of contraception. It will be difficult to reduce maternal mortality until levels of new contraceptive users rise above 30%, as this increases the space between births, as well as helping avoid unwanted pregnancy and the risks associated with unsafe abortion. The number of new contraceptive users in Manica increased from 13.3% in 2008 to 15.4% in 2009, a good improvement, but there is still a long way to go. However, you can see progress is being made in this picture, with a woman waiting beneath a poster which is promoting free family planning services (right).
So, whilst we might take the right to have a hospital birth for granted in the UK, ensuring that right can be a significant challenge in Mozambique. Achieving a 65% coverage of institutional delivery in Manica can be considered something of a success.