I've been catching up with work and colleagues in the office this week, after a hectic few weeks attending various international meetings in Delhi, where the lovely weather usually attracts visitors this time of year.
Actually, there seems to be interesting seminars and conferences on climate change all year round in Delhi – far more than I can attend and still get my job done. It's a positive sign of the rising level of interest and engagement with climate change issues here, and one of the things that makes this such a stimulating place to work.
The role of finance in relation to climate change has been a common theme in many of the recent events I've managed to get to. It was firmly on the agenda at the International Renewable Energy Conference (DIREC) held in Delhi at the end of October. DIREC was part trade fair, part policy forum, and quite an event – with over 10,000 participants registering on the first day alone. Getting lunch was an ordeal in itself.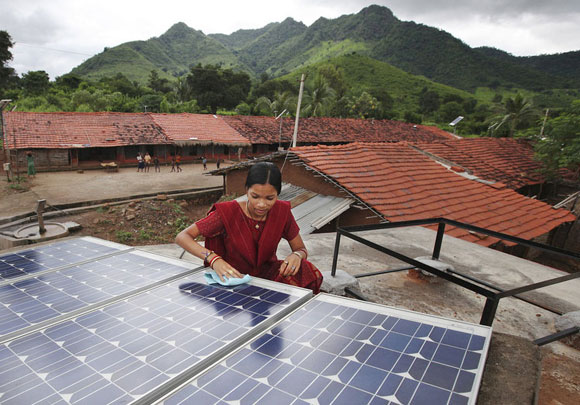 I then organised a session on financing of climate change adaptation at an international workshop co-hosted by DFID, GTZ, USAID, the Asian Development Bank and the World Bank. And just last weekend I joined a discussion on financing constraints for India's National Solar Mission organised by the World Economic Forum.
Financing will be a crucial area of discussion at the Cancun climate summit, informed by the recently released final report of the UN Secretary-General's High-Level Advisory Group on Climate Change Finance (AGF). While the AGF's focus has been on options for mobilising the $100 billion a year by 2020 in international financing for developing countries agreed at last year's Copenhagen summit, international resource mobilisation isn't the only issue.
Developing countries such as India may wish to act on climate change for reasons of domestic self-interest, and there's a lot still to be learned about how to mobilise and deliver the financing that will be needed.
Some lessons can be drawn from past experience with general development finance and efforts to catalyse private investment in infrastructure, for example, but these challenges are further complicated when it comes to climate change.
Consider investment in renewable energy. The bulk of this will need to come from private sector sources. The throng of business people and bankers present at DIREC was a sure sign that that the private sector sees huge opportunities in renewables. But there are many risks that need to be overcome to turn these into reality.
These include newish and often unproven technologies, a lack of experience on the part of developers and banks, and the fact that renewables projects typically require stable and predictable policy support in order to generate adequate returns.
The barriers are even greater in the case of off-grid renewables. These often offer the greatest potential to reach the poorest and most marginalised communities. But they are hampered by, among other things, the small scale (and therefore higher transaction costs) of such projects, challenges of serving remote markets including marketing, distribution and after-sales servicing, and not least the low incomes of customers.
At both the DIREC and WEF events I spoke to Harish Hande, CEO of SELCO, a Bangalore-based private company with a deserved reputation for successful innovation in off-grid renewables. According to Harish, off-grid receives much less policy attention than larger on-grid projects, despite delivering greater social impacts.
This urgently needs to be rectified, in his view, to encourage the creation of many more companies like SELCO and achieve coverage at the scale required to make a dent in India's huge energy access deficit – around 400 million people do not have access to modern energy services. Although SELCO has to date reached 120,000 households, improving the incomes and quality of life of around 600,000 people, these numbers pale in comparison with the unmet need.
How can developing country governments, donors and the private sector work together to jointly overcome the many risks currently deterring private financing of renewables? Precisely what is needed to mitigate these risks will vary between technologies and countries, but it's likely to require a combination of innovative financial mechanisms, capacity building for banks and government, and supportive regulatory and subsidy policies.
DFID is currently talking to institutional investors, financial institutions and multilateral development banks to better understand what's needed. In India, we've been working with the Ministry of New & Renewable Energy to help design an improved subsidy scheme for off-grid renewables.
While there's a lot that can be done through national policy initiatives and financial instruments, the potential impact of an international climate agreement should not be underestimated. A point made just recently by a group of private sector investors aiming to send a pre-Cancun message. Agreement on emission reduction targets, on international financing and reform of the Clean Development Mechanism, for example, could help provide the policy stability and predictability investors need, as well as unlocking much larger amounts of finance for investment in renewables and other areas.
Finally a word on adaptation to climate change, where the issues are quite different, but financing is no less critical. On the face of it, private financing would appear to be less promising for adaptation needs, given that they often involve higher costs, and benefits are felt mainly in the long term. Consider the issue in more depth however, and it's possible to think of policies that might encourage private investment for adaptation.
One interesting angle discussed at last week's workshop was how to design policies to encourage private sector innovation and deployment of adaptation technologies, such as efficient irrigation, clean drinking water and drought-resistant crop varieties. If market demand for such products can be assured, could these become as interesting a business opportunity as renewable energy? I'll leave further discussion of this interesting possibility to a future blog…