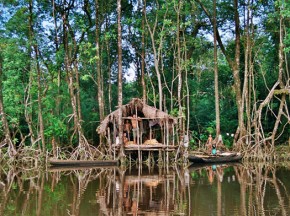 Maintaining and restoring mangrove cover helps protect areas of coastline or shoreline from erosion. This is done by absorbing the increasing energy and force of waves, due to sea level rise or powerful tropical storms and hurricanes, that might otherwise cause tremendous loss of life, livelihoods and property. Special adaptive aerial roots and salt-filtering tap roots in the mangroves are also rich ecosystems, carbon capture systems and help to remove pollutants from the water.
What has grabbed my attention recently are the creative ways in which people in the Caribbean are replanting mangroves. While watching a film on Partnerships for Resilience: Climate Change and Caribbean Tourism released at Cancun in December, I saw how the Caye Caulker volunteer mangrove replanting group in Belize, use PVC tubes around the stem to protect the mangrove seedlings from wave action and ensure better rates of survival. It is really simple, cheap and effective.
The second example came during a presentation last week by Ms Annette Arjoon Martin, chair of the Mangrove Action Committee in Guyana. She said a picture speaks a thousand words and she was right (there are more on the website as well as other useful educational material if you are interested). The use of 'Marans' (creole word taken from word katamaran) by workers  to help them stay afloat the slippery mud flats to do the planting, is what blew me away and inspired this blog. I rushed right over to Annette to get some more information after she finished talking. I understand using these marans is a killer on the thighs, but they make it look easy.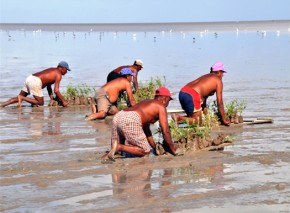 The project aims to restore 10km of the Guyanese coastline with mangroves. They have completed about 3km so far. It is being funded by the Global Climate Change Alliance - part of the EU's 'fast start' finance contribution for adaptation action in vulnerable countries. Apparently loads of mangroves were lost in the 70's when there was a severe shortage of fuel in Guyana and people cut them for firewood.
While there is still uncertainty about the scale of impact of climate change locally, it is not a case for inaction. We already know how to start tackling several expected risks like erosion, water shortage or intense rains and can start to implement measures on the ground to better cope with that. What might be different in our approach is to build in flexibility to scale up easily if needed, use low carbon energy for power and ensure what we put in place or use is effective over a range of possible climate futures depending on how well we do to reduce global greenhouse gas emissions. In many cases, our first choice will be those adaptation measures that also have other developmental benefits (or what we refer to as 'no regret options' which are viable actions that make sense and are necessary even without climate change).
Resilience building and disaster risk reduction in the region will be an iterative process and one where we will be learning all the time. We certainly need to put more resources where the risk is. We also have to collect data about what is working, what is critical for success and the costs and benefits, etc. Just this week I raised the idea with the Caribbean Community Climate Change Centre team about producing an adaptation evidence paper for the upcoming Durban UNFCC COP meeting. It would include a range of regional adaptation initiatives and solutions to risks posed by climate change that are already being implemented here, like the mangrove replanting above. They were really enthusiastic to do this given the shortage of this type of information for decision makers to help them take action and as a way to share ideas and lessons across the region. If you have any contributions to make on this please do let them know.