With all the media's attention focussed on Libya and other Middle Eastern countries, you might have noticed Afghanistan has slightly fallen off the media radar recently.
That's not necessarily a bad thing – it means those of us who work here can quietly get on and do what we want to do without the world's media spotlight upon us.
Though it does mean that certain major events in Afghanistan may have passed people by – and one of those is 'transition'.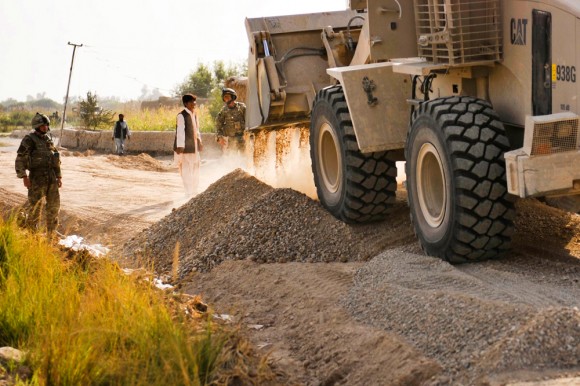 'So what is transition then?' a rather sceptical friend of mine grilled me the other day. I've learned over the years that every time I speak to them there is a new subject on Afghanistan they want to question me about.
I have been in Afghanistan for two years now, it was my second anniversary on 17 April. My time here is coming towards an end but now, more than ever, it feels like Afghanistan is turning a corner. Certainly more so than when I arrived.
Last month was particularly significant. On 22 March while the people of Afghanistan celebrated Nowruz, the New Year here, President Karzai announced the first plans for transition. He said that this year will be "the most critical year".
When people talk of 'transition' in the Afghan sense, they mean Afghan forces, both police and military, taking over control of security from the International Security Assistance Force, the coalition of 49 countries in Afghanistan. President Karzai announced the first seven locations to transition to Afghan control. This included, most significantly for UK interests, the capital of Helmand, Lashkar Gah.
So plans are underway to hand over control of security to Afghan forces in Lashkar Gah in July. It will be a big step and there is lots of work to be done, but the UK, right alongside international partners, has been planning for this transition for some time now.
A lot of my friends at home have been asking me if this means that the UK will leave Lashkar Gah soon. The short answer is no.
There will continue to be a strong UK presence in Lashkar Gah for a while. Civilians like me will continue to manage projects to create jobs, build roads and power stations and boost the economy of the region.
The military will still be present to help train and support the Afghan forces in managing their own security. But the Afghans will be in charge – and I for one am delighted. What we've all been working towards is ensuring that Afghanistan has the right systems and structures in place for Afghans to manage the country themselves.