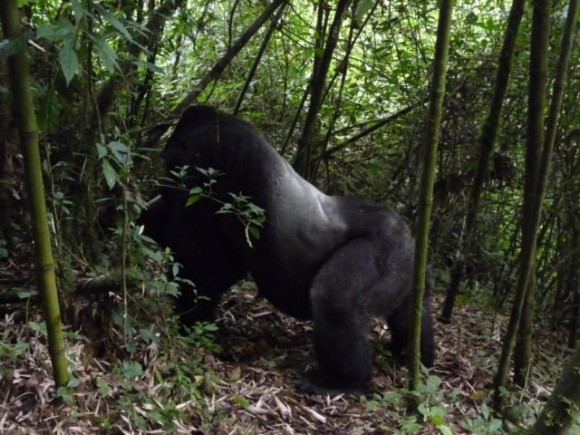 I'm back in eastern Democratic Republic of Congo (DRC), and on Sunday morning I took a little time out to visit the gorillas in the Kahuzi-Biega National Park. I wrote about these gorillas in a recent blog. In fact, I just missed seeing them cross the road, which they did in search of tasty bamboo shoots at around 6am on the day of our visit.
Seeing the gorillas – the silverback was following the path just ahead of us within five minutes of entering the forest – was an incredible experience. It's also a crucial source of tourist income for the DRC, in an area where few foreign visitors apart from humanitarian workers and international entrepreneurs tend to venture.
For DFID, the gorillas are also part of a much wider set of issues we need to take into account whenever we're considering how to deliver development results and spend the UK's money wisely.
I'm here in the east to assess the case for further DFID investment in roads in eastern DRC. The Government of DRC, along with the UN, has identified its priorities in the region. It's then up to DFID to assess whether helping to deliver each of these priorities would be a good way to use the UK's finance. We need to ask questions such as: Is there a strong economic case for investing in a particular road? What impact would a project have on conflict in the area? How do we ensure we're not just building a road, but that the road leads to increased incomes, lower prices for household goods, and access to basic services? Is DFID the best organisation to deliver this specific project?
My visit to the Kahuzi-Biega park was important because, as I said in my earlier blog, there's a road that runs through a 30 kilometre section of it. One of the roads DFID could finance is a new section of the same road further north. This would eventually link Bukavu, the capital of South Kivu, to Kisangani, DRC's third largest city. As things stand, this link would run through the national park, and could greatly increase traffic on a road through this important protected area.
This tells us that, if we made the decision to go ahead with this project, we would also need to fund a proposed bypass around the park. In this way, we would link a densely populated, potentially economically vibrant area with Bukavu while at the same time limiting traffic through the national park and therefore protecting the gorillas. The local road that we used this week to visit the gorillas would continue to be maintained, meaning that the livelihoods of the people living near the road would be protected too. This would enable us to find a balance between meeting the development needs of the poorest people in eastern DRC, and meeting the needs of the environment – as well as, of course, my beloved gorillas.
It is only through fully assessing the case for our projects and programmes, appraising issues including the economic, social, environmental, institutional and beyond, that we can step back and spot these kinds of issues. In this way, we hope to avoid any unforeseen consequences – and deliver the greatest benefits we can.
You can read more about DFID's business cases for new projects and programmes here. DFID publishes key documents, including business cases, here.