My first year in Zimbabwe has flown by and spring is once more in the air as the jacaranda trees lining Harare's streets burst into bloom once more, in a riot of regal purple. The beauty of the garden suburbs is deceptive. Despite the steady economic recovery of the past 24 months, the levels of poverty are still very high and disproportionately affect the million-plus children estimated to have lost one or more parents to the scourge of HIV/AIDS.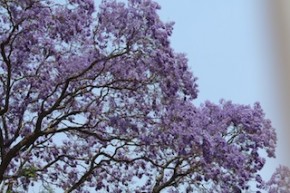 Almost exactly a year ago I witnessed the launch of a major textbook distribution programme that has now successfully completed its distribution of around 13 million books to all the estimated 2.6 million primary school students. A similar exercise is now underway to provide secondary textbooks using cost savings from the initial phase.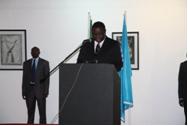 Last week I was fortunate enough to attend another major programme launch, efficiently organised once more by UNICEF and again presided over by the Zimbabwean Prime Minister, Morgan Tsvangirai. We had gathered at the National Art Gallery where there was a striking collection of Shona and Ndebele cultural sculpture and a professional photographic display of today's Zimbabwean children – at work, at play and at school. Entertainment came courtesy of UNICEF's regional goodwill ambassador and musical superstar Oliver 'Tuku'  Mtukudzi, who was also joined in voice by the disabled singing sensation Prudence Mabhena.
Despite the lovely atmosphere the stark facts and figures kept everyone reminded of the purpose:  1 in 3 children suffers chronic malnutrition and  700,000 children live in extreme poverty – they suffer from hunger for most of the year, become physically weak, and are much more likely to die from infections that other people survive. Horrendous levels of violence and abuse are also suffered by children in Zimbabwe, especially girls (60% of reported rape survivors are children).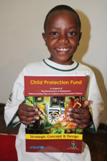 The children's representative present reminded the Prime Minister and other senior distinguished guests of the need for action: to protect, love and cherish children, allowing all to have access to food to eat, schooling and medical services when needed.
The government's national action plan to support orphans and vulnerable children for the coming five years was launched, supported by the Child Protection Fund (CPF).  The UK (DFID) together with the Netherlands, Sweden and the Delegation of the European Union to Zimbabwe are supporting specific interventions through CPF, under UNICEF management.
In addition to BEAM school fee support for orphans, the CPF will scale up regular cash payments to 80,000 of the poorest households in the country, benefitting 300,000 of the most vulnerable children in Zimbabwe. Just last March I met the first grandparents to benefit, who were singlehandedly raising their dead children's children. By the end of this year, this pilot in one locality will have already scaled up to ten districts spread across all the provinces of Harare.
The words of former UN Secretary General Kofi Annan, quoted at the launch, are well worth repeating:  "There is no duty more important than ensuring that children's rights are respected, that their welfare is protected, that their lives are free from fear and want, and that they can grow up in peace."