Eating poulet à la moambe – one of Congo's famous dishes – at the weekend, it occurred to me that I tend to spend an unhealthy amount of time thinking about and enjoying food.
So I really welcome the chance that World Food Day gives me to think about food in a less greedy and more professional and positive way – such as reflecting on how my work affects food security here in the DRC.
The DRC has the highest level of food insecurity in the world, with 69% of the population undernourished.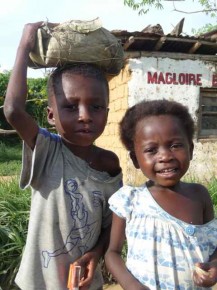 This is a country with a vast potential for agriculture, with 80 million hectares of arable land. Yet only around 3% of this potential is exploited, and the vast majority is subsistence farming.
Add to that high levels of poverty and insecurity, a lack of infrastructure that makes moving around difficult, and extreme weather events including droughts and floods, and it is unsurprising that food insecurity is such a great problem here.
Roads have an important role to play in addressing this issue and ensuring people have enough to eat. There's the simple question of access – which allows farmers to take their produce to market, and people to buy what they need. In DRC at the moment, over 50% of farmers live more than eight hours from a trading centre.
The importance of roads to food security means that one of the ways in which we measure the impact of our roads programmes on people's lives is through the price of basic household goods such as salt and rice.
In the town of Shabunda in eastern DRC, for example, salt cost $2.20 per kilogram before we helped re-open the road that links Shabunda to the provincial capital. Today, the price stands at $1.30. While there are many factors that can affect the price of food – as we've seen with major global food price increases in recent years – a downward trend not only tells us something about people's disposable income but can also indicate that our interventions are having a positive impact.
Where people do not have the means to buy food, organisations like the UN's World Food Programme can step in with cash or vouchers for food.  The new generation of vouchers is known as 'digital food' and is credited and debited using mobile phones.
This opens up a whole new set of opportunities as we design our future interventions in the roads sector in DRC. Could we, for example, use road access to provide solar power in remote areas, which in turn could power mobile phone base stations, allowing people not only to communicate, but to access finance or 'digital food'?
Thinking across the various areas of our work in this way might help find a key to the problem of food insecurity here in DRC – and that's why we need days like World Food Day to bring things into focus.
---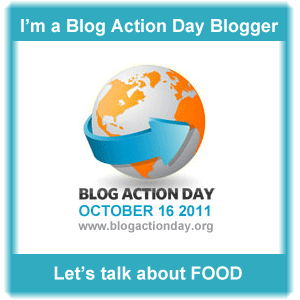 This blog is part of Blog Action Day - #BAD11 - an annual event that focuses bloggers around the world on one topic, for one day. Coinciding with World Food Day on 16 October, this year's Blog Action Day topic is 'food'.
Find out more about DFID's work in food and nutrition and get the latest updates on the food crisis in the Horn of Africa.