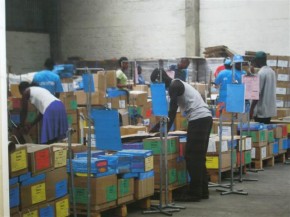 In a repeat of last year's 'Textbooks For All', I found myself once more at a huge logistics warehouse on the edge of Harare, in a marquee filled with dignitaries to launch the second phase of the Education Transition Fund programme (ETF).
The UNICEF procurement people had driven such a hard bargain with book publishers that the ETF in the first phase had not only delivered 15 million primary textbooks - enough for all students to have a set in each of the four core subjects - but there were millions left over to repeat the exercise for secondary school students. The warehouse was once more filling up and a huge sorting operation was underway to pack and then distribute pallets of books to over 2,000 secondary schools in time for the new school year starting in January.
Following wonderful music, student choirs, and female rapping (on the power of books and schooling; not gangsta' nihilism and dishing) I witnessed Zimbabwe's inclusive government coming together in public at an unusually senior level.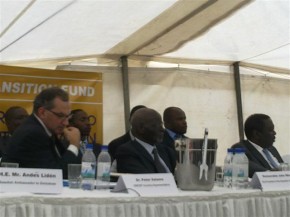 MDC-T Prime Minister Morgan Tsvangirai and ZANU-PF Vice President John Nkomo share roots in trade union activism, but are poles apart in terms of political affiliation. However, both spoke with passion over the benefits of education and its power to uplift both the individual and society.
VP Nkomo recalled a drought in 1947, when his family took in the orphaned children of San bushmen on the western borders, and how this inspired him to establish a school in these remote border areas where the right to education still remains largely unrealised. PM Tsvangirai highlighted a recent trip to a remote rural school in Binga, with thatched huts that are classrooms by day and cattle pens by night. Three young girls then proudly displayed their new textbooks. Not one of them had shoes. They recited a poem on how they will use education to 'kick poverty out of their community'.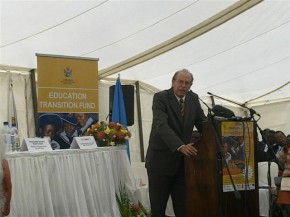 Reconciliation is still needed for Zimbabwe to move ahead. I hope that work such as the ETF textbook programmes and future plans for broader packages of support to schools, teachers and students will assist in this vital mission. One speaker joked that the ETF western international donors should be called instead 'friends' or 'partners' as 'donor' conjured up images of blood transfusions! Reconciliation with the international community is also essential for Zimbabwe to prosper, and humour is a vital ingredient to find that common ground.