Violence against women and girls is unacceptable, yet it's one of the most widespread violations of human rights worldwide. As many as one in three women experiences violence or abuse at some point in her life.
The Coalition Government is committed to preventing and tackling this violence and, through UK aid, is changing lives by helping thousands of women improve their personal security and access justice.
Today, on the  International Day for the Elimination of Violence against Women, we are focusing on our commitments in this area and our progress towards them. Singer Alexandra Burke talks about her visit to Uganda to see how Comic Relief and the UK Government are working together to help survivors of domestic violence.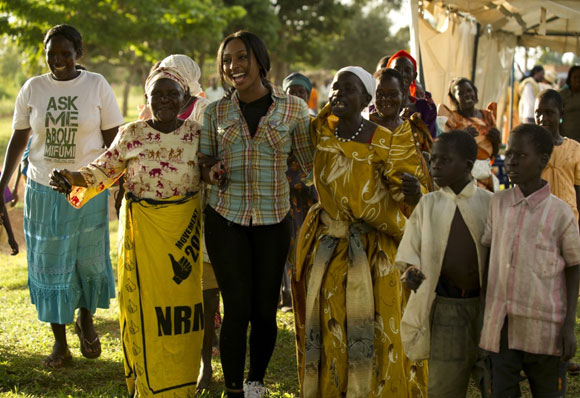 With her hands in her lap clutching a tissue, 37-year-old Mary takes a deep breath, looks me in the eye and starts to explain how she ended up here - at an advice centre for survivors of domestic violence in Tororo, eastern Uganda.
Whilst in secondary school, she fell in love with a boy and, after two happy years together, they got married. But sadly, the fairytale ending was never to come.
Mary was earning money as a seamstress, but her husband got increasingly aggressive when he couldn't find work. After months of searching for a job, he finally joined the army, left home and all but abandoned his wife. When he returned, Mary hardly recognised the man she had married. He was angry and violent and his outbursts soon spiralled out of control.
At one point he beat her so badly that her life was in danger. She had nowhere to turn for help and was completely alone.
But then a domestic violence worker from an amazing project called Mifumi noticed her in the village and encouraged her to come to the advice centre, which is where I find myself now.
I'm in Uganda to see how Comic Relief and the UK government are working together to change lives. They co-fund projects, such as Mifumi, through The Common Ground Initiative which supports organisations set up and run by people with strong African heritage. It makes perfect sense - they know their own communities, the problems they face and the possible solutions better than anyone.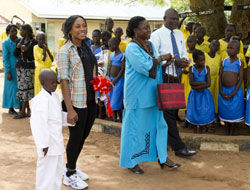 This project actually began at a primary school which I visited earlier today. To help mothers pay for their children's school uniforms, Mifumi helped women to start small businesses and earn an income. But their husbands stole their earnings and abused their hard-working wives. Mufumi responded by setting up a domestic violence project which has grown into an incredible force for change.
I'm told that, staggeringly, up to 68% of Ugandan women have experienced some kind of violence, yet there is very little help available when they need it the most.
That's where Comic Relief and UK aid come in. By funding projects such as Mifumi, they are ensuring women get all kinds of support to change their lives.
Since being here I've learnt that Mifumi leaves no stone unturned when it comes to tackling domestic violence. From providing emergency shelter for women who've escaped abuse and ongoing counselling, to legal support that sees the abusers brought to justice - you name it, they do it.
The project also helps women earn an income so they can provide for themselves without relying on a violent partner.
In fact it's Mary who tells me that, thanks to Mifumi, not only is she able to stand on her own two feet but she's teaching fellow survivors of domestic violence how to make clothes so that they can earn a living too.
"What makes me happy," explains Mary, breaking into a smile, "is seeing the women I train do well. Every time they achieve something, it makes me proud."
As Mary humbly shows me around her tailoring workshop, I can see what it means to these women to finally be free.
Our final stop is a safe house called 'The Haven' – and that's exactly what it is. A secure, peaceful sanctuary, a world away from the violent homes these women have left behind.
Up to four women and twelve children stay here at any one time. Many of them arrive with nothing but the clothes on their backs having fled in a state of panic and fear. Over time, these women are helped by Mifumi to rebuild their lives piece by piece.
One such woman is 37-year-old Anna who encapsulates all the changes Mifumi has helped to bring about over the last decade.
Back in 2003, Anna was attacked so brutally by her husband that he thought she was dead. Her children managed to get her to hospital and, by some miracle, a doctor saved her life. Anna remained unconscious for three months.
During that time, Mifumi women stayed by her bedside until she finally came round. As she recovered, they gave her a safe place to stay and helped to prosecute her husband. He served six years in jail for attempted murder.
Today, Anna is a happy, bubbly woman who works as a housekeeper at Mifumi's safe house. She is a living example of how a survivor can turn their whole life around. And, thanks to the support from Comic Relief and UK aid, she now has a fully furnished home and an abuse-free life with her children.
As I leave, I think about the women I've met. Despite the trauma they've faced, they are so positive and strong. It's truly inspiring to see.
And the best bit? This is just one of the many outstanding projects that are making women's lives safer right now, thanks to the public's generous support of Comic Relief and the UK Government. Together, they really are changing lives. Just ask Anna or Mary.
---
Watch
: Alexandra meets some inspirational survivors of domestic violence on her trip to see how the Common Ground Initiative is helping women in Uganda.
>> See a photogallery from Alexandra's trip to Uganda on Flickr
---
Please note, this is a guest blog. Views expressed here do not necessarily represent the views of DFID or have the support of the British Government.

DFID's vision for girls and women sets out how we are changing lives by increasing our activity to prevent and respond to violence in at least 15 of the poorest countries.
By 2014, UK aid will help ten million women access justice through courts, police and legal assistance – increasing the numbers of survivors who have access to treatment and advice, and whose cases are satisfactorily investigated.
We are developing new and innovative projects, focused on changing attitudes and behaviours, strengthening security and justice systems and creating safe spaces for girls and women. These include:
Improving support to survivors...
In Sierra Leone, UK aid funds 43 government-led Family Support Units to provide crucial initial support to survivors of sexual and domestic violence. The accessibility of these units has increased reporting rates and is increasing the conviction rates for perpetrators of violence.
Ending child marriage...
In Ethiopia we are working with communities to reach at least 220,000 girls in the Amhara region, which has one of the highest rates of child marriage in the world.
Data collection...
In Ghana we are working with the Ministry of Women and Children's Affairs to gather evidence on domestic violence. This will help us highlight the extent of the problem and the impact it has on women's and girls' lives.
Raising awareness...
In Mozambique, UK aid is supporting government awareness-raising programmes such as the 'Zero Tolerance Campaign' which tackles school-based sexual abuse against girls.
Working with police...
In South Sudan we are working with the police service to develop a Women's Police Association and train other police officers on human rights and gender issues. This work has already helped generate gender-sensitive standard operating procedures.
Find out more about DFID's work on this important issue
Find out more about how UK aid is helping the world's poorest people change their lives