Of all the things I thought I'd be doing when I got the chance to go to Africa and see Red Nose Day cash being spent - mixing cement wasn't one of them.
After the years I spent working on building sites before the X Factor though, I felt strangely at home when I was handed a shovel by workers putting up a new health clinic in Tanzania.
But the real reason I was here wasn't to give the builders a hand, but rather to see a Comic Relief funded health worker in action as she did her daily rounds.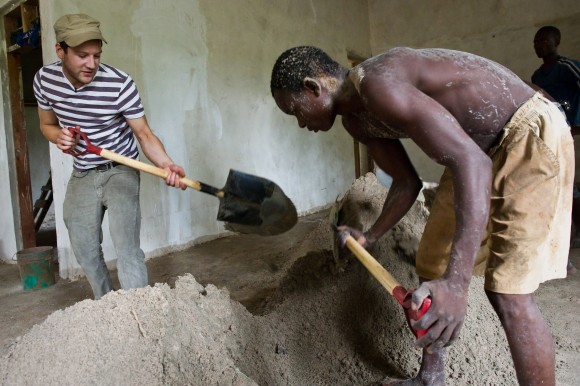 I'd travelled 40 miles south of the capital of Tanzania, Dar es Salaam, into a rural area that, while beautiful and lush, is home to some of the world's poorest people, with a third of the population forced to survive on less than £1.50 a day.
It's the most vulnerable that suffer most and in this area the infant death rate is way over the global average - a statistic which Mwajabu, the young health worker I was about to shadow, is at the forefront of trying to change.
Mwajabu is a Community Health Agent, employed as part of a project to cut the number of deaths of women and their babies during or just after childbirth, and to improve the health of all mothers and their children. The project is bringing these paid Community Health Agents to rural areas of Tanzania and also providing them with extra equipment, like a vehicle and boat ambulances.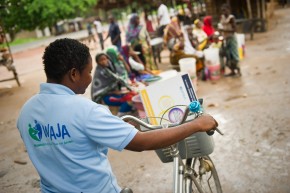 My first visit of the day with Mwajabu was made on the new bicycle which has helped to massively increase the number of people getting medical help in rural areas like this one.
Something as simple as the humble push-bike makes such a difference here - and the money that was raised last Red Nose Day, together with the match funding by the UK Government, will deliver pedal power for many more nurses for many more years to come.
For now though, I had a job to do and as we arrived at our first visit of the day I'll admit to feeling a little nervous as to what I'd find.
I needn't have been; the day's patients were all expectant mums and new mothers, and so right there in front of me when we walked into the small home was a pristine and beautiful two-day-old baby boy called Abdullah.
The gorgeous little tot was given an examination and although he was well, his mother told the nurse that she was struggling to establish breastfeeding. While bottle-feeding is available, the difficulties in keeping the bottles clean have led to babies contracting diarrhoea and even losing their lives.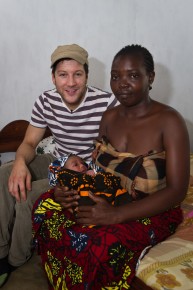 With this in mind, Mwajabu will come and see this new mum regularly in the coming days to make sure the feeding problems are sorted - a crucial piece of practical support which could help prevent a tragedy.
With baby Abdullah safely wrapped back up and with his mum, we were on our way again to the next house call, but this one wasn't so full of joy.
Hassan is just 21 months old and has already suffered from typhoid in his short painful life. Now it looked to Mwajabu like he had developed malaria, judging by his high temperature and sickness.
The boy's mother Halima, herself far from well having suffered horrific leg injuries in a recent car accident, was clearly incredibly worried, but also grateful that she has Mwajabu to come and help treat her son.
I was about Hassan's age when I became seriously ill and I was lucky enough to receive amazing treatment after a huge tumour was found on one of my kidneys.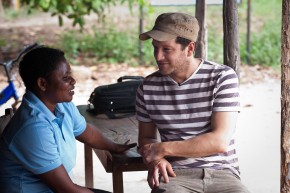 I vaguely remember my stays in hospital and feeling sick with the chemotherapy I was on, all of which saved my life. Every child deserves to be looked after if they fall ill and every parent should know that they won't be on their own and helpless if their precious little ones get sick.
The third woman we saw knew all about that particular type of pain: she had lost three young children and the devastation was etched deep into her face.
Myassa is 35 and expecting again. As she enters her ninth month of pregnancy, the nurse talks her through labour and the crucial first few weeks of the baby's life.
We've all seen images from places like Tanzania and in some ways we get used to them, but when you are actually here, when you see it for yourself, you can't help but feel the very real suffering that has to be endured day in, day out.
Sitting opposite a mother who has lost three children is as humbling an experience as you could possibly imagine and giving her and people like her the hope that she will never have to experience pain like that again is exactly what this smiling nurse and her trusty bike bring to this entire village.
And it's everybody who gave to Red Nose Day and the extra support from the UK Government that is helping to make it happen here.
That is something we can all be very proud of.
---
Please note, this is a guest blog. Views expressed here do not necessarily represent the views of DFID or have the support of the British Government.

Visit Facebook for more stories, films, quizzes and tips on how to get involved.
Watch the Comic Relief film of Matt's visit to Tanzania.