I'm a time-traveller. It is currently 2004 here in Ethiopia, as they use their own unique calendar. This is just one of a wealth of facts that have emerged during my first two weeks in this fascinatingly different community.
The team has bonded extremely well both intra and inter-culturally. Yet one thing that has caused some tension is a few of the national volunteers' relaxed approach to time-keeping. This generally laid-back attitude appears to be widespread in Ethiopia, and has at times been frustrating for the UK volunteers: we worry that we are missing opportunities to make a significant contribution to community development. However, we know we must remain optimistic, as with enough enthusiasm and determination, a lot can be achieved in a short space of time.
This relaxed attitude can be frustrating for educated and ambitious Ethiopians too, including the volunteers we are working with. They speak of numerous friends and relatives who have left the country to seek a better life elsewhere, often choosing to chase the elusive American dream. Their departure is particularly damaging for Ethiopia, as it is these individuals who have the capacity to improve the nation's lot.
As is probably clear, the national volunteers come from middle-class backgrounds. We, as UK volunteers, have been struck by the gulf between our counterparts and many of their fellow countrymen, who live in such visible destitution on the streets. The numbers and desperation of the homeless has been shocking: I will never get used to seeing a tiny baby crawling in the dirt in the middle of a busy pavement. We are all facing an inner battle, as when a beggar harasses us on the street for the hundredth time in a day, we feel irritated as well as desperately sympathetic.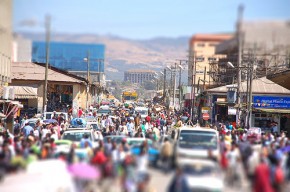 Another alien aspect of Addis is its approach to road safety. Accidents are common here – the combination of a lack of lanes and traffic lights, the requirement that only the driver must wear a seatbelt, and the scarcity of pavements has taken some getting used to!
I have adapted to different customs within my host home too. The mother has practised 'gursha' on me, which involves feeding me with her hand. As this is a sign of affection, I have swallowed my inhibitions along with the food. I have also discovered that young Ethiopians do not tell their parents they have a partner until they decide to get married. When questioning one of the volunteers about her boyfriend's occupation in front of her parents, I was met with an alarmed look, and the response of "I don't have a boyfriend!".
Despite some difficulties and misunderstandings, I am thoroughly enjoying my time in this exciting city, and I cannot wait to explore it further. Its people are warm and generous, as well as beautiful: their skin tone and bone structure is uniquely attractive. They are proud of their country, as well as their various religions, and when they dance, they unite in a pure and carefree enjoyment of the moment. I know I'm going to love it here.