Not much has happened in my placement this week. Unfortunately the school has closed for two weeks due to the cold weather, which in my opinion is still much warmer than England's winter.
I feel fairly lucky to have been placed in Rupandehi, as my placement is pretty close to Lumbini, the birthplace of the Buddha, and somewhere I hope to visit before I leave.
This was the first week of the school closure and at first I was enjoying it, but by the end of the week my opinion had changed. The week was overall relaxing, but eventually I started to think about home and, adding that to not sleeping well, I started to feel slightly homesick. It was only very minor though and nothing a phonecall home couldn't solve.
Making my blogging and my contact with home a lot easier is the fact that Shreedhar has now registered my phone to use the internet. It only costs about 1p per hour to use and, by my reckoning, is a similar speed to the cyber cafe. The mobile service in Nepal is generally cheap all round: it costs only 1p to text and 2p per minute to ring a mobile in Nepal; and 5p to text a mobile, or 12p per minute to phone a landline in England.
On Saturday we conducted our activity for the week with the youth club. This was a workshop on how to organise meetings and other activities - the first of 11 topics that we must cover in total. It went very well, with 20 under 25s and five overs attending (bearing in mind that 'youth' in Nepal is classified as under 40).
My host home has three floors: including a roof, a balcony on the second floor (the same floor as my bedroom) and a bicycle shop on the ground floor. I share a room with Shreedhar and after speaking to some other volunteers am very lucky, especially since we have carpet and proper curtains rather than wooden shutters. My bed is a simple wooden bench, but with the bedding provided by Restless Development it's comfy enough to sleep on. I have no mosquito net, but have seen very few in my time here. I'm still taking my anti-malarial tablets each day, though, with no side effects other than slightly dry skin on my arms and legs.
I suppose it's time I came clean and told everybody that I'm fully embracing the culture and doing things 'Nepali' style. For people who don't know, this means that I'm eating with my right hand (no cutlery) and using my left as a substitute for toilet paper. It's actually very effective and much more sustainable than using paper, so maybe it will catch on in the UK....
---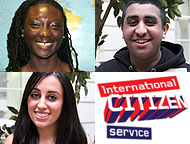 Ceri, Esi and Mohammed volunteered for ICS last year. Hear them talk about their experiences in Ethiopia, Uganda and Kenya in the latest DFID  podcast. Listen here, or subscribe on iTunes.